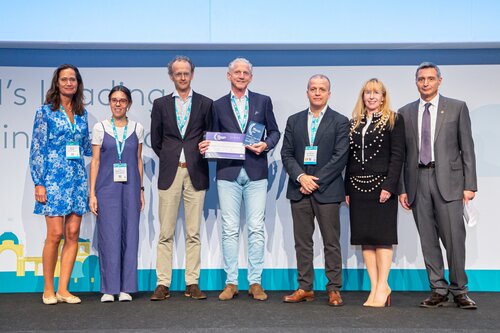 At EuroPerio10 in Copenhagen, the EFP announced the winners of the first EFP Innovation Award for Digital Solutions for Gum Health, which seeks to recognise digital-technology projects for patients, dentists, and researchers that will contribute to gum health.
The first prize of €10,000 was given to the Dental Coach App, a computer program with a patient app for behavioural change developed by Lodewijk Gründemann and Melle Vroom from Goutum in the Netherlands.
The second prize of €6,000 went to Dental Tracker, a mobile application for patients, dentists, and periodontal researchers, developed by Boey Sean Kuan of Perio.Co in Singapore.
The third prize of €4,000 was awarded to AI-PERIO: integration of gum health perception and periodontitis prevention on an artificial intelligence-based mobile application for tackling low-grade chronic systemic inflammation, from Giacomo Baima and Mario Aimetti of the EFP-accredited postgraduate programme in periodontology at the University of Turin in collaboration with the Anti-Inflammaging Company.
A total of 14 applications were received for this first edition of the EFP Innovation Award for Digital Solutions for Gum Health, which is financially supported by GSK. The prize, which will be awarded every year, was launched with the aim of encouraging research and is open to all members of EFP-affiliated national societies of periodontology.
Applications came from candidates in 12 countries: India, Israel (two applications), Italy, Mexico, the Netherlands, Singapore, Slovenia, Sweden, Switzerland, Taiwan, the UK (two applications), and the USA. They were evaluated by a judging panel comprising Phoebus Madianos (EuroPerio10 chair and former chair of the EFP scientific affairs committee), Moshe Goldstein (chair, postgraduate education committee), David Herrera (chair, workshop committee), and Andreas Stavropoulos (EFP president and chair of the scientific affairs committee).
The four criteria used to evaluate each application were the need, the market, the presentation of the idea, and the business plan. To be eligible, digital innovations had to be aimed at one or more of three groups of people:
The public: digital technology such as applications or devices that improve periodontal health and prevent gum inflammation.
Dentists: digital technology that helps dentists diagnose or improve the gum health of their patients.
Periodontal researchers: new digital methods that enhance the quality of studies about gum health.
"Digital technologies have an increasing role to play in prevention and treatment of periodontitis and this EFP award with the support of GSK aims to support innovations in this area," said Andreas Stavropoulos.
"Digital solutions are not only a key enabler to improve periodontal health but are also a gateway to better everyday health," added Stephen Mason, global medical lead, oral health, for GSK Consumer Healthcare. "That's why GSK Consumer Healthcare is proud to be sponsors of the new EFP Innovation Award for Digital Solutions for Gum Health. We are committed to the EFP and we will never stop in our pursuit to find new and disruptive ways to contribute to the improvement in gum health worldwide.