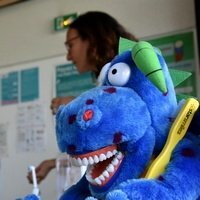 The activities organised by the French Society of Periodontology and Oral Implantology (SFPIO) for European Gum Health Day focused on the oral health of pregnant women.
Using the materials created by the Oral Health & Pregnancy project – an initiative of the EFP with its partner Oral-B – members of the society took part in "prevention days" at seven maternity units across the country.
These actions included the provision of information to pregnant women, along with oral-hygiene products, at hospitals in Colombes, Montpelier, Nancy, Nantes, Rennes, Toulouse, and Metz.

The society also organised, on May 15, a patient-education workshop in Paris for rheumatology patients.
In the run-up to European Gum Health Day, the society posted material on its website and its Facebook and LinkedIn pages on a weekly basis from the end of March. It also sent out a press release about its activities.