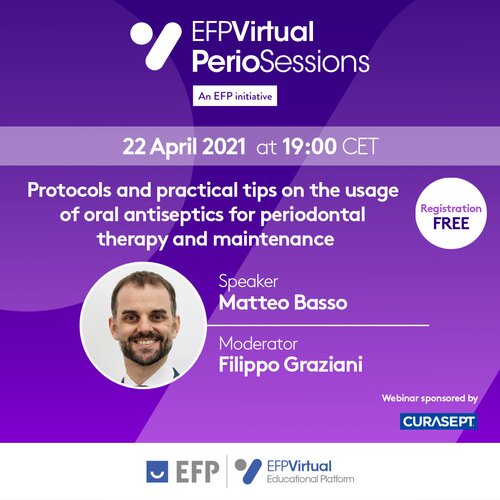 Matteo Basso, adjunct professor of dental ergonomics and management and periodontics and preventive dentistry at the University of Milan, will give the next EFP Perio Sessions webinar on 22 April at 19.00 (CET) focusing on the role of oral antiseptics in periodontal therapy and maintenance.
His presentation will explore the various active principles in oral antiseptics and their advantages, disadvantages, and side effects. He will discuss whether chlorhexidine is still the "gold standard" for oral antiseptics and will explain the latest research in this area and offer clinical guidelines for the use of antiseptics in the management, therapy and maintenance of periodontal and peri-implant diseases.
Dr Basso will also outline strategies for preventing the lack of patient compliance in respecting the prescribed use of postsurgical antiseptic mouth rinses or applications, and the state of the art of protocols involving antiseptic regimens.
Moderated by Filippo Graziani, this will be a free session, sponsored by EFP partner Curasept, but prior registration is required.