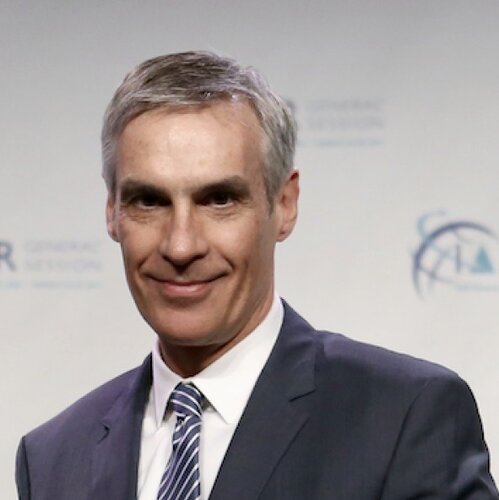 Panos N. Papapanou, the new editor of the Journal of Clinical Periodontology, officially starts work in his new role on April 1, succeeding Maurizio Tonetti who has edited the EFP's flagship publication since 2005.
Praising the "fantastic job" that his predecessor has done in building the success of the JCP, consistently ranked among the top three journals in dentistry and which last year achieved its best-ever impact factor (5.241), Prof Papapanou said: "It is a very prestigious publication. The strength of the JCP is its reputation – it is an established journal with a long history, and it has been a conduit of very sound, authoritative research."
He suggested that people look up to it and so "there is a difference in publishing something in the JCP rather than in another journal that is less well regarded."
He noted that in becoming the new editor-in-chief there was "a sense of history and purpose and continuity", as the first referee report that he ever wrote was for the JCP, at that time edited by Jan Lindhe under whom he was studying periodontology at the University of Gothenburg.
"Jan was editor for 20 years and he established it as the pre-eminent journal in perio, and Maurizio took over afterwards and he continued with that very positive trajectory," said Panos Papapanou who was an associate editor of the JCP between 2009 and 2016. "In the broad sense, I want to continue in the same successful path as the previous editors who have led the journal and sustain it and possibly improve it. And the way to do it is to make the world know that the journal is a conduit for different kinds of research.
"Of course, it is called the Journal of Clinical Periodontology and we are proud of the name and the history, but that does not mean that we don't also publish pre-clinical papers, animal studies, or basic science. The aim and the ambition has to remain that we publish the best possible science related broadly to the field of periodontology and implant dentistry."
Greater diversity
The change of editor-in-chief is accompanied by a change in the team of nine associate editors, with women scientists in periodontology featuring in the line-up for the first time.
"There is a healthy mix of people that stay from the previous editorial team and some infusion of new talent," he explained. "I am actually very happy that for the first time we will have two female associate editors [Niki Moutsopoulos and Flavia Teles], which I think is important because diversity is important – not only because it's a catchy phrase and everyone uses it but because there is hard evidence that to tackle important problems you need diversity, you cannot be the old boys' club that makes decisions. Two is certainly not the end of it – because they are two out of nine – but it signals the beginning, and it is encouraging."
The editorial board of around 50 people has also been renewed and the new editor-in-chief said that he had taken "the practical approach to honour people who over the last couple of years have been very consistent and hardworking as reviewers helping the Journal become what it is, and I thought it was only fair to elevate a lot of those people by including them as members of the editorial board."
He said that the board offers a mixture of "mid-career and established people, because you want to get these diverse opinions and the new generation of researchers represented in that group because this will be the pool out of which the new associate editors and editors will emerge over time."
"I am very excited that such an experienced and visionary periodontist as Professor Panos Papapanou is filling Maurizio's shoes," said EFP secretary general Nicola West. "Panos, I warmly welcome you and very much look forward to working with you in your new role."
The new editor-in-chief:
Panos N. Papapanou, professor of dental medicine, director of the division of periodontics, and chairman of the section of oral, diagnostic, and rehabilitation sciences at Columbia University College of Dental Medicine in New York, USA. He received his dentistry degrees from the National and Kapodistrian University of Athens (Greece) and Columbia University, his PhD from Gothenburg University (Sweden), and carried out post-doctoral training in oral microbiology at the Forsyth Institute in Boston, USA
He is the recipient of several international awards, including the Jens Waerhaug Prize from the Scandinavian Society of Periodontology in 1988, the Anthony Rizzo Award from the International Association for Dental Research (IADR) in 1996, the William Gies Award for Clinical Research from the IADR in 2015, the Yngve Ericsson Prize in Prophylactic Dentistry Research (jointly awarded by the Swedish Patent Revenue Fund for Prophylactic Odontology and the European Organization for Caries Research) in 2016, and the Distinguished Scientist Award for Basic Research in Periodontal Disease from the IADR in 2017.
Panos Papapanou is married to Dr. Evie Lalla, also a professor of periodontology at Columbia University. They have two children: Ellie, 21, currently in her third year of studies at Brown University, and Nicholas, 18, who graduates from high school this summer and is heading to Cornell University Engineering in the autumn.
The new associate editors:
Bin Cheng, Columbia University, New York, USA.
Jan Derks, University of Gothenburg, Sweden.
Niki Moutsopoulos, National Institute of Health, Bethesda, USA.
Luigi Nibali, King's College London, UK.
Flavia Teles, University of Pennsylvania, Philadelphia, USA.
The continuing associate editors:
Ryan Demmer, University of Minnesota, USA.
George Hajishengallis, University of Pennsylvania, Philadelphia, USA.
Mariano Sanz, Complutense University of Madrid, Spain.
Frank Schwarz, Goethe University, Frankfurt, Germany.