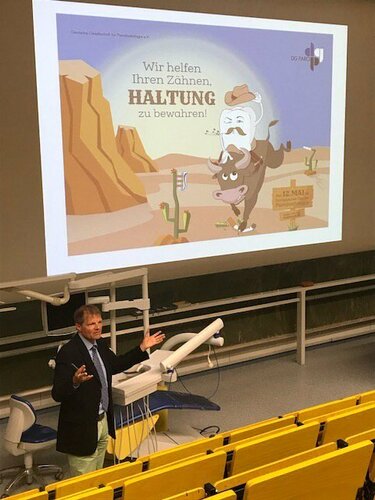 The German Society of Periodontology (DG PARO) kicked off its activities related to European Gum Health Day 2018 with a lecture by Professor Peter Eickholz entitled: Periodontitis: What is that and how does it affect my body?"

The lecture was given at the "Citizens University" event organised by the Johann Wolfgang Goethe University in Frankfurt for members of the public.

In his lecture, on May 9, Prof. Eickholz explained the mechanisms that cause periodontitis and the link between periodontal and general health, expressing the vision of this year's awareness day of "health begins with healthy gums."
DG PARO also distributed posters for European Gum Health Day to its 5,000 members for them to use in their dental practices, as part of a campaign to inform patients about periodontitis and its consequences.
Local events were organised by the departments of periodontology at universities in Berlin, Frankfurt, and Heidelberg, while periodontists from the department at Kiel University set up a stall in a shopping centre to provide shoppers with information on gum health.