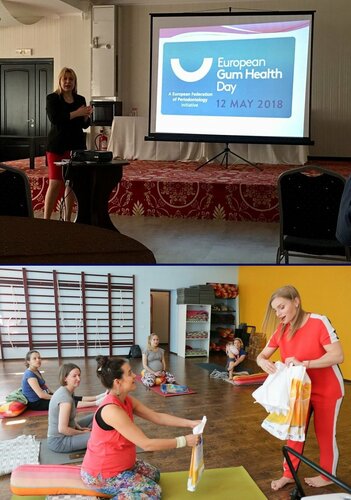 Romania: Seminar to discuss the new classification of periodontal and peri-implant diseases.
Russia: Press conference and conference about Gum Health Day, along with a joint action with the Russian Society of Diabetes, free check-ups, handing out leaflets and oral-hygiene material, and a social-media campaign.
Serbia: Free periodontal examinations at the Dental School of the University of Belgrade (May 13) and seminars for dental professionals promoting current trends in periodontal prevention.
Slovenia: Lectures and oral-hygiene instructions for mentally handicapped residents and their parents or guardians and a round-table discussion, "New insights in the perio-systemic interrelationship," at the Medical Chamber of Slovenia.
Spain: Institutional event and press conference on oral health in pregnant women (May 14), article in the society's Cuida Tus Encias magazine, and dissemination during May on social media using Gum Health Day promotional video.
Sweden: Members informed via email and Facebook and encouraged to promote Gum Health Day in their clinics and to colleagues, as well as promoting the day with the Swedish Dental Association.
Switzerland: Publishing a new patient brochure on periodontal health and medicine, and dissemination via the society's website and Facebook page.
Taiwan: Gum Health Day posters are being translated, a press conference will be held and medical centres across the country invited to participate.

Turkey: Posters and flyers distributed to all periodontology departments at dental schools, members provided with EFP-created materials, posters placed in clinics, and free toothbrushes and toothpastes handed out (in collaborate with Colgate). Conferences in Sakarya (April 20) and Istanbul (May 13), television interviews, and a press release will be issued. A social club and sports centre in Istanbul will also involve its members in activities.
UK: Materials for Gum Health Day had a strong presence at the British Society of Periodontology's conference in Brighton (April 24-26), where videos were included during sessions and at the welcoming drinks event. The society is also linking Gum Health Day to the UK's National Smile Month, distributing videos via its website and social media, and has emailed all members to promote the May 12 awareness day as well as providing infographics to media contacts.

Ukraine: Lectures and scientific presentations at the society's 12 regional offices and at eight university departments; free periodontal screenings, risk-factor evaluations, and oral-hygiene checks in different regions of the country, supported by the handing out of leaflets and other material. Collaboration with dentists' and hygienists' organisations, press conference and press release, national and local TV interviews, and dissemination via website and social media.
Uruguay: Communication campaign, including badges/pins and interviews on social media, to promote Gum Health Day.
Venezuela: Workshop on the epidemiology of periodontal diseases for students, hygienists, and general dentists; lectures addressed to specialists on the new classification of periodontal and peri-implant diseases; explaining the relationship between periodontal and systemic diseases to cardiology, obstetrics, and pneumonology services; dissemination through TV and radio.