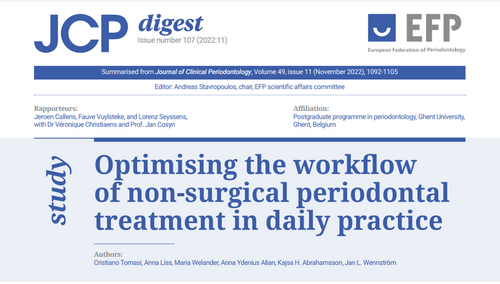 Both conventional section-wise non-surgical therapy (CNST) and a guided approach to infection control where patients receive full-mouth debridement preceded by oral-hygiene education (GPIC) are effective non-surgical treatment protocols for periodontitis.
A recent study, now summarised as JCP Digest 107, sought to evaluate the relative effectiveness of the two approaches in terms of clinical and patient-centred outcomes in the general population, under conditions found in practice.
The research, performed in Gothenburg in Sweden, involved 95 dental hygienists randomly assigned to perform either CNST or GPIC on patients, who were given a clinical examination at the six-month follow-up at which they were also questioned about their self-perceived oral health. Periodontal pocket closure was the primary outcome.
The researchers found that pocket closure at six months amounted to 70% with both treatment modalities. However, GPIC was more time-efficient, which provided benefits both to patients and clinicians.
The research was summarised for JCP Digest by postgraduate students at the EFP-accredited programme in periodontology at Ghent University in Belgium.