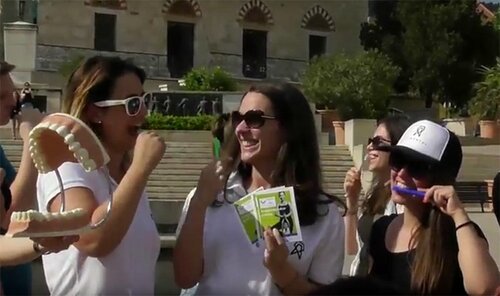 The Hungarian Society of Periodontology focused its activities for European Gum Health Day 2018 on three cities: Budapest, Pécs, and Szeged.
At Semmelweis University in Budapest, there was an interview with Professor Peter Windisch, head of the department of periodontology and president of the Hungarian Society of Periodontology.
During this interview, Prof Windisch discussed the situation of the Hungarian population in relation to periodontal disease, how this disease relates to oral hygiene, the differences between periodontitis and caries, symptoms, and what people can do to prevent these diseases.
He also discussed the prevention campaign that the society will run from September, which will involve hour-long interactive lectures about different topics – periodontal disease, orthodontic treatment, implants, and prevention for young people. At the end of each lecture, there will be instructions in proper oral-hygiene technique and each participant will be given a free toothbrush.
The interview was released to the media by the university's communications office and a considerable amount of coverage was gained as a result.
Prof Windisch gave an interview on a morning programme on MTV (the main Hungarian television channel) in which he discussed periodontal disease and the planned prevention campaign. He was also interviewed about similar topics on Kossuth Radio (one of the country's main radio stations).
In the city of Pécs, the society organised a "flashmob" in the main square, using social media to attract people to the event, where oral-hygiene instructions were provided. A video of the event has been released on the society's YouTube channel.
This project was organised by Dr Iván Mandel who also gave a radio talk about European Gum Health Day, which discussed periodontitis and its relation to other systemic conditions.
In Szeged, local television channel MAKÓ TV filmed a report for a health magazine programme with the department of periodontology of the University of Szeged.