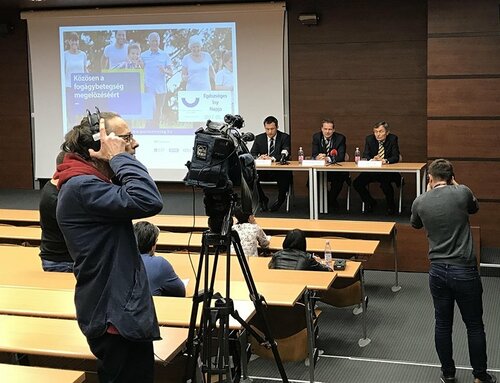 The Hungarian Society of Periodontology made quite an impact for European Gum Health Day on national radio and television.
There was coverage on the evening news of the country's two most popular channels RTL and Tenyek, which each reach about one million viewers.
Peter Windisch, president of the society (and head of the department of periodontology at Semmelweis University in Budapest), was interviewed live on the channels MTV and DUNA TV. He also featured, alongside Dr Balint Molnar (a member of the society and assistant professor of periodontology at Semmelweis University), in a brief report on periodontal disease on MTV.
In addition, members of the society took part in a live studio discussion on the Kossuth Rádió, Hungary's biggest radio station, where they answered questions from the audience. There was also coverage on the HIR television channel.
More TV appearances are planned along with articles in the written press. All this media coverage came about as a result of sending out a press release and holding a press conference about European Gum Health Day.
Other activities organised by the Hungarian Society of Periodontology for European Gum Health day included a lecture about the importance of oral hygiene for diabetes patients. The society also made an informative video about periodontal disease, which it published on YouTube, and it has stepped up its social-media efforts on Facebook.