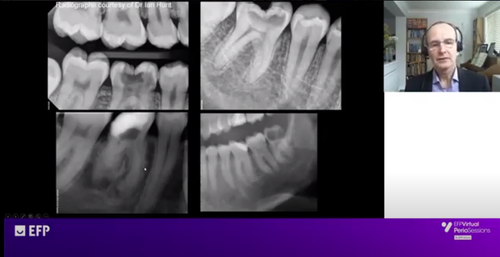 The relationship between oral health and sports performance was examined in detail by Ian Needleman in the latest EFP Perio Sessions webinar.
Prof Needleman explained how poor oral health was common among elite athletes, the likely factors behind this, and its impact on performance. He also discussed interventions aimed at behavioural change and how these can lead to improvements not only in athletes' oral health but also in their performance.
Professor of periodontology and evidence-informed healthcare at UCL Eastman Dental Institute, Ian Needleman leads the Centre for Oral Health and Performance and has spent the last decade investigating oral health among athletes, starting with an epidemiological study at the Olympic Games in London in 2012.
He and his team have also performed qualitative studies looking at oral-health-related behaviours among elite and professional athletes and most recently a behaviour-change study.
In the EFP Perio Sessions webinar on December 10, he said that "putting the studies together, the findings are remarkably consistent: in terms of dental caries, approximately half of athletes have dental caries at a level that requires intervention and good periodontal health is rare."
While 49% of athletes have dental caries and 42% present dental erosion, 77% have gingivitis and 22% periodontitis.
Role of nutrition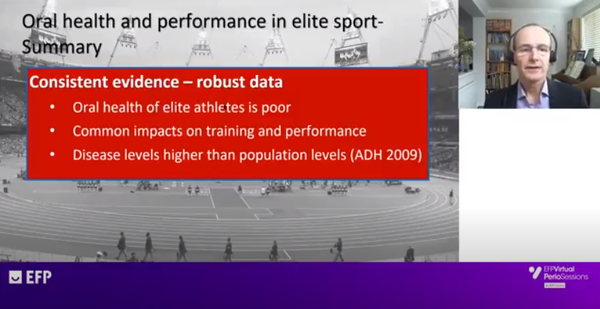 As EFP secretary general Nicola West, who moderated the session, observed: "Probably it's an area that many dentists and periodontists do not know much about and it never fails to amaze me that you have got this fantastic group of healthy people and yet they neglect their oral cavity. It's absolutely fascinating."
The frequent consumption of sugary and acidic sports drinks and energy supplements is a major factor behind this, but Prof Needleman stressed that nutrition needed to be considered more broadly.
Other relevant issues are dehydration and dry mouth and how intensive training affects the amount and quality of saliva and produces changes in the oral microbiome that can increase the risk of dysbiosis.
He said that the causes of poor oral health among athletes were complex and could be divided into two groups:
Pro-inflammatory, dysbiotic factors that increase disease risk.
Social and structural barriers that reduce awareness and affect health behaviours, screening, and access for care.
Changing behaviour
He said that elite athletes need to be considered not only as individuals but as part of an "ecosystem" that includes support staff, medical and exercise specialists, coaches, and sports federations. "We have to think about how the ecosystem influences individuals and groups of communities within that ecosystem," he said. "If we are to make change, we need to understand that ecosystem and plan how to intervene at different levels within it."
In terms of behaviour change, the UCL Eastman researchers have developed toolkits and infographics for athletes on oral health and nutrition.
The presentation featured a video made with the British rowing team in which Zak Lee-Green, a rower and a dentist, explained: "We know from experience that dental health has a huge impact on performance. We have had athletes who have gone to world championships who have had to pull out because they have had a dental problem that is easily preventable. We have to consume a lot of calories – sports drinks, energy gels, bars with lots of sugar in them – we are snacking all throughout the day. The challenge and the risk for dental problems is massively increased but we probably don't recognise that as much as those issues don't show up until it's too late."
A view from the past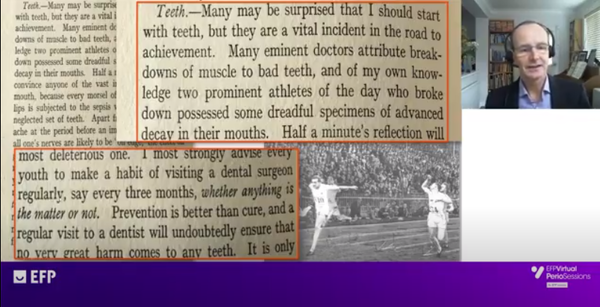 One curiosity presented by Prof Needleman concerned Harold Abrahams, the British athlete who won the gold medal in the 100 metres sprint at the Paris Olympics in 1924 (as featured in the film Chariots of Fire). Abrahams wrote one of the first training guides in athletics in which the first factor he emphasised was the importance of teeth: "Many may be surprised that I should start with teeth, but they are a vital incident in the road to achievement. Many eminent doctors attributed breakdowns of muscle to bad teeth, and of my own knowledge two prominent athletes of the day who broke down possessed some dreadful specimens of advanced decay in their mouths." Abrahams advised regular visits to the dentist to "ensure that no very great harm comes to any teeth."
Describing this as "an extraordinary intervention to make in 1926," Ian Needleman joked that "Harold Abrahams was perhaps ahead even of our S3 European guidelines!"
The question-and-answer session at the end of the webinar covered questions about the viability of low-acid or no-acid sports drinks, whether athletes are more likely to present bruxism, the role of mouthguards, and forthcoming research on whether periodontal therapy is associated with improvement in sports performance.
The next EFP Perio Sessions will take place on 28 January 2021 when Iain Chapple, professor of periodontology at the University of Birmingham (UK) and former secretary general of the EFP, will focus on behavioural change and risk-factor control according to the EFP S3-level clinical practice guideline for the treatment of stage I-III periodontitis. Registration for this webinar, which costs €35, is already open.