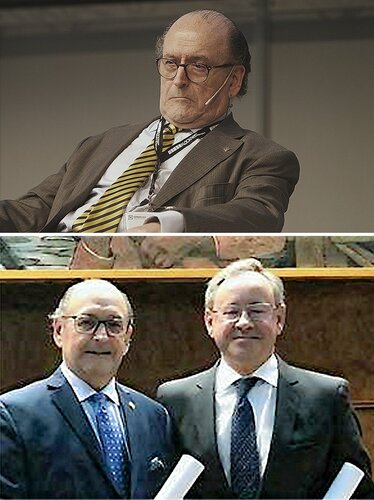 The EFP was sad to hear the news of the death of Raúl Caffesse, one of the leading figures in contemporary periodontology. Prof Mariano Sanz, on behalf of the EFP, offers a tribute to "an exemplary teacher."
It was with great sadness we received the sad news of the death of Professor Raúl Caffesse on 29 December 2019. Raúl Caffesse is one of the most emblematic figures in global periodontology of the last 40 years: not only for his fundamental scientific contributions that have allowed us to understand the nature of periodontal diseases, but also because his clinical research has shown us how we should treat our patients affected by periodontitis in a more efficacious way.
Raúl Caffesse has also been an exemplary teacher, whose impact has been felt across practically all the planet: from his native Argentina to the rest of Latin America; from the United States, where he developed the greater part of his professional career, to Europe – mainly Spain – where he focused his teaching in the final years of his life. All over the world, his passion to teach periodontology, his mastery in transmitting his knowledge, and his closeness towards all those who approached him in order to learn has been well recognised.
As a result, his disciples are not limited to those centres where he carried out his formal teaching – such as the National University of La Plata (Argentina), the University of Ann Arbor at Michigan (USA), the University of Texas at Houston (USA), the University of Monterrey (Mexico), and the Complutense University of Madrid (Spain) – but also include all those professionals who took his courses and who so much enjoyed his dedication and his knowledge.
Raúl Caffesse began his teaching career at the National University of La Plata in his native Argentina, although he soon widened his professional horizons and started to work as a teacher at the University of Ann Arbor at Michigan, where he followed Professor Sigurd Ramfjord in directing the department of periodontology. During these years, he actively participated in the classic clinical research (the Michigan Study) with which periodontology in the United States went from being a discipline dominated by the opinion of a group of master clinicians to become a subject with solid scientific bases. Raúl Caffesse not only participated in these studies but also continued to lead their development, scientifically endorsing the therapeutic procedures that we still perform today.
Periodontal regeneration
He moved later to the University of Texas at Houston, where he was also dean of the Faculty of Dentistry. Prof Caffesse's mark on the university was huge, converting it into one of the leading centres in North American dentistry. During those years, Prof Caffesse's research was fundamental to the development of the techniques of periodontal regeneration that we use today and here also began his passion for the study of the reactions of the tissues to the placement of dental implants, and he was a pioneer in the study of peri-implant diseases.
Once he retired from the University of Texas at Houston, he participated very actively in postgraduate teaching in Mexico, at the University of Monterrey, where he extraordinarily encouraged the development of periodontology in this country. Professor Caffesse has also been fundamental to the development of periodontology in Spain. First, through his ties to the Spanish Society of Periodontology and Osteointegration (SEPA), where he participated in innumerable courses, congresses, and symposia leaving an indelible mark on practically all Spanish periodontists.
Teaching in Spain
He dedicated the last ten years of his life almost exclusively to teaching in Spain, combining his active participation in the postgraduate programme of the master's degree in periodontology at the Complutense University of Madrid (UCM) with the continuous-training course he directed in Elche. At the UCM, his legacy has been immeasurable in combining his wisdom, his passion for teaching and his dedication during so many hours of working side-by-side with students, without limitations of time or space. Finally, in 2018, he obtained a major official academic recognition in his own country, Argentina, in being awarded an honorary doctorate by the University of Buenos Aires.
At this time of deep sadness, his disciples and friends direct our thoughts towards Helena, his wife and companion, and to their two children and their grandchildren, who were always a model family at the side of Prof Caffesse, despite his multiple absences caused by his academic and professional commitments. We have all lost a great teacher, a very good friend, and – above all – a magnificent human being.