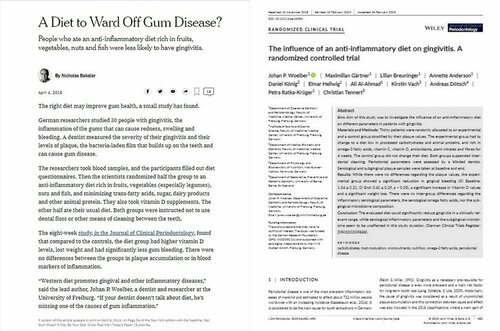 A recent article in the EFP's Journal of Clinical Periodontology on research into the effect of an anti-inflammatory diet on gingivitis has attracted significant media interest.
A report in the New York Times, headed "A Diet to Ward Off Gum Disease", summarised research published in the JCP earlier this month which suggested that people who eat an "anti-inflammatory diet" rich in fruits, vegetables, nuts, and fish are less likely to have gingivitis.
The research, carried out at the Department of Operative Dentistry and Periodontology at the University of Freiburg (Germany), was an eight-week randomised controlled trial designed to evaluate the influence of an anti‐inflammatory diet on different parameters in patients with gingivitis.
The study, published in the April edition of the JCP, involved 30 patients divided into experimental and control groups. The experimental group had to change to a diet low in processed carbohydrates and animal proteins, and rich in omega‐3 fatty acids, vitamin C, vitamin D, antioxidants, plant nitrates, and fibres for four weeks. The control group did not change their diet. Both groups suspended interdental cleaning for the period of the study.
While there were no differences between the groups in terms of plaque values at the end of the four-week period, the experimental group showed "a significant reduction in gingival bleeding" (GI baseline: 1.04 ± 0.21, GI end: 0.61 ± 0.29, p < 0.05), as well as a significant increase in Vitamin-D values and significant weight loss.
There were no inter‐group differences regarding inflammatory serological parameters, serological omega fatty acids, or the subgingival microbiome composition.
Researchers concluded that, within its limitations, the study "showed that gingivitis is profoundly affected by diet."
'Very responsible'
Lead author Johan P. Woelber, said he was "really overwhelmed" to have received a request from the New York Times for a telephone interview, "since we do not usually even get requests from local media." He praised the journalist, Nicholas Bakalar, because "he wanted get the information of the study right before he wrote an article, which I found very responsible for a newspaper."
Dr Woelber added that he was "really glad for this opportunity to get this message across to a wide range of dental patients."

Since the publication of the New York Times report, other media have followed up the news, including a TV news report on a station in Cincinnati, Ohio (USA).
Looking to the future, Woelber said: "I think the most important next steps in this direction are to evaluate the anti-inflammatory diet as an adjunct to periodontal therapy, to further evaluate anti-inflammatory and anti-bacterial properties of individual foods, and to re-evaluate the correlation between plaque and gingival inflammation under different dietary circumstances."
JCP editor Maurizio Tonetti commented: "The interrelationship of diet and nutrition on gum health is a rapidly expanding area. Research that the Journal has published in the last three years points to a potentially important effect of what and how we eat on the whole organism, including the gums and the oral cavity.
"While, today, nutritional intervention should not be considered part of standard periodontal therapy, I expect more and more research to emerge to answer the questions of whether or not an unhealthy diet brings an additional risk for gum disease and whether nutritional intervention may significantly help in prevention and treatment."
"This research paper makes an important contribution to the rapidly growing literature regarding the associations between diet and nutrition with health and wellbeing of an individual, highlighting the importance of a balanced, healthy diet and supporting the old adage 'you are what you eat'," said EFP secretary general Nicola West.

"The findings in the paper – that reducing processed carbohydrate and animal-protein consumption whilst increasing omega-3 fatty acids, vitamins C and D, antioxidant micronutrients, plant nitrates. and fibre leads to a reduction in gingivitis or gum disease – are important for oral health, which also is thought to contribute to our systemic health.
"Anecdotally, many people already support such a diet however, these reported findings are worthy of further exploration in longer-term studies in order to further build the evidence base, and allow well-designed systematic reviews to help us understand the significance of such findings to the broader population."