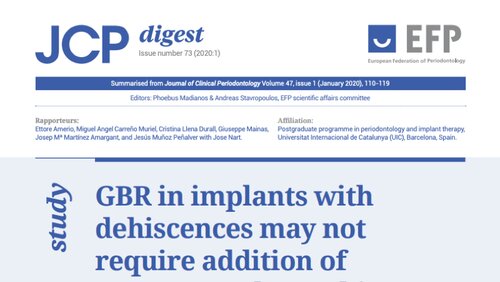 The removal of single or multiple teeth will result in a series of alterations within the edentulous segment of the alveolar process, and bone-regeneration procedures are often required to improve bone volume and reduce the risk of mucosal recession.
There is, however, limited evidence about the relative benefits of using deproteinised bovine bone mineral (DBBM) alone as a xenograft or combined with autogenous bone chips.
A team of researchers at the Catholic University of Leuven in Belgium performed a study to evaluate clinically and radiologically the use of the DBBM alone versus DBBM combined with autogenous bone chips for the treatment of bony dehiscences at implant placement.
Summarised as JCP Digest issue number 73, this randomised, controlled, clinical trial with a split-mouth design – involving a limited sample of 14 patients – found that the usage of DBBM coupled with autologous bone chips was not associated with any advantage in comparison with xenograft alone in terms of vertical and horizontal bone gain. As a result "its application thus seems to be worthless."
The research was summarised for JCP Digest by postgraduate students at the EFP-accredited programme at the Universitat Internacional de Catalunya in Barcelona, Spain.