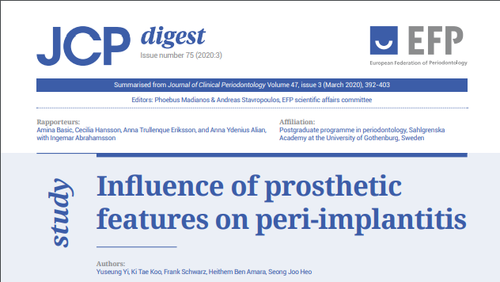 Prosthetic design that allows proper access for oral-hygiene measures is important in helping to prevent peri-implantitis, according to research summarised in the latest edition of JCP Digest.
Researchers in South Korea found that over-contoured implant prostheses were associated with peri-implantitis. In addition, an emergence angle greater or equal to 30 degrees, a convex emergence profile, and the middle position in a bridge were factors associated with a higher risk of both marginal bone loss and peri-implantitis.
Summarised as JCP Digest issue number 75, this study built a prediction model to analyse the impact of various prosthetic features and other known risk factors on the prevalence of peri-implantitis.
This cross-sectional study of patients with dental implants also found that there was more bone loss and peri-implantitis occurred more frequently at bone-level implants compared to tissue-level implants.
Other factors – such as a history of periodontitis, crown/implant ratio, and screw- or cement-retention of the prosthesis –had an effect on marginal bone loss, but the effect was not statistically significant for the current presence of peri-implantitis.
The research was summarised for JCP Digest by students of the EFP-accredited postgraduate programme in periodontology at the Sahlgrenska Academy at the University of Gothenburg in Sweden.