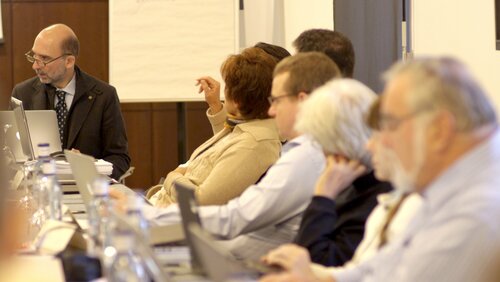 All 12 editions of JCP Digest have now been translated from English into four other European languages — and a fifth is on the way — and will soon be available on the EFP website.
The aim of this translation project is to make the content of JCP Digest available to oral-healthcare professionals whose mother tongue is not English, and thereby help spread the valuable and relevant scientific knowledge contained in the Journal of Clinical Periodontology (JCP) to a wider audience.
Versions of the JCP Digest in German, Italian, Portuguese, and Spanish will be published first, with the French translation to follow soon.
The translators are Alexandre Sarfati (French), Alexandra Stähli (German), Filippo Graziani (Italian), Ricardo Faria Almeida (Portuguese), and Ana Molina Villar (Spanish).
The JCP Digest — published on the EFP website in downloadable pdf format — offers concise perio research for clinicians who may lack the time to read densely written research papers but who want to keep their knowledge up to date. From each monthly issue of the JCP, one highly relevant study is summarised by a team of rapporteurs from post-graduate periodontology courses at leading universities and academies.
The publication is co-ordinated centrally by Dr. Iain Chapple with the co-operation of Prof. Maurizio Tonetti, editor-in-chief of the Journal of Clinical Periodontology, under the umbrella of the EFP External Affairs Committee.
Recent editions have covered such subjects as retaining or replacing molars with furcation involvement, supportive post-implant therapy, and subgingival air-polishing with erythritol.
Click here for all the editions of the JCP Digest.