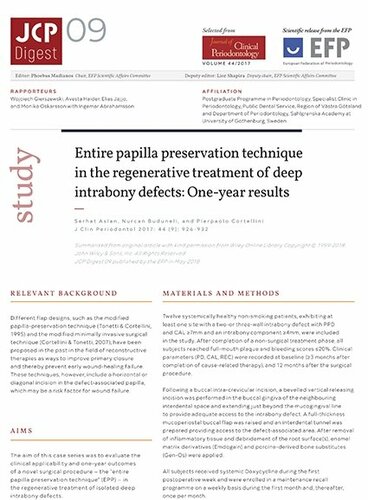 Various flap designs – such as the modified papilla-preservation and the modified minimally invasive surgical techniques – have been proposed in reconstructive therapies to improve primary closure and prevent early wound-healing failure.
But these techniques include horizontal or diagonal incisions in the defect-associated papilla, which may be a risk factor for wound failure.
A study, now summarised as JCP Digest 09 (2017: 44), involving 12 systematically healthy non-smoking patients, sought to evaluate the clinical applicability and one-year outcomes of a new surgical procedure – the "entire papilla preservation technique" (EPP) – in the regenerative treatment of isolated deep intrabony defects.
Carried out by Turkish periodontists Selmet Aslan and Nurcan Buduneli, working with Pierpaolo Cortellini of the Accademia Toscana di Ricerca Odontostomatologica in Flroence (Italy), the study found that the EPP technique may decrease the risk of early wound failure and exposure of biomaterials.
The researchers said that if future clinical trials confirmed that the EPP technique causes minimal gingival recessions, it could be useful in aesthetically demanding situations, such as surgery in the frontal areas.
The original research was published in the September 2017 issue of the Journal of Clinical Periodontology. It was summarised for JCP Digest by students at the EFP-accredited postgraduate course in periodontology at the Sahlgrenska Academy at the University of Gothenburg in Sweden.