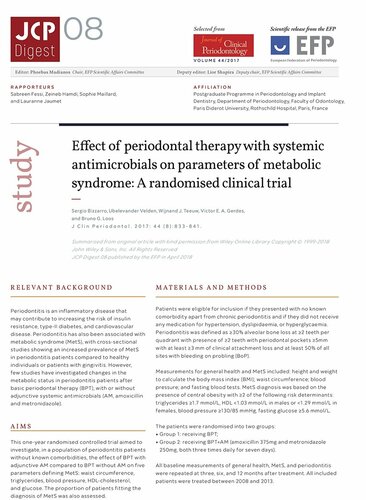 Periodontitis is an inflammatory disease that may contribute to increasing the risk of insulin resistance, type-2 diabetes, and cardiovascular disease. In addition, periodontitis has been associated with metabolic syndrome (MetS).
In this context, a randomised clinical trial – now summarised as JCP Digest 08 (2017:44) – investigated changes in metabolic status in periodontitis patients after basic periodontal therapy, both with and without adjunctive systemic antimicrobials (amoxicillin and metronidazole).
This one-year trial took a group of patients without known comorbidities and measured the effect of basic periodontal therapy combined with antimicrobials compared to basic periodontal therapy alone in relation to five MetS parameters: waist circumference, triglycerides, blood pressure, HDL-cholesterol, and glucose.
The results showed that periodontal therapy was associated with a reduction in systolic blood pressure and triglycerides level, and with a temporarily improvement in the whole metabolic status of periodontitis patients.
However, the use of adjunctive systemic antimicrobials in conjunction with basic periodontal therapy did not yield any additional improvement in MetS parameters.
The research was carried out by a team of researchers in the Netherlands, led by Sergio Bizzarro, at the Department of Periodontology, Academic Centre for Dentistry Amsterdam (ACTA). It was summarised for JCP Digest by students at the EFP-accredited postgraduate course in periodontology at the Rothschild Hospital (AP-HP) of Paris and Faculty of Dentistry, Université Paris Diderot, Paris (France).
The original research was published in the August 2017 issue of the Journal of Clinical Periodontology, the EFP's official scientific journal, edited by Maurizio Tonetti, which has an impact factor of 3.477.