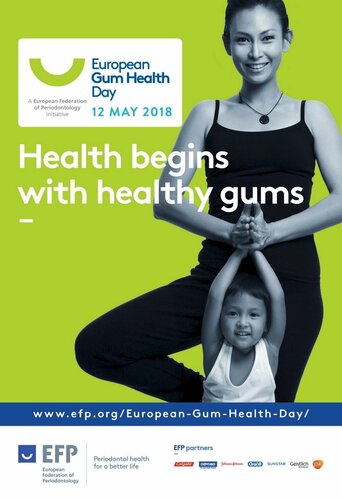 All but one of the 30 EFP-affiliated national societies of periodontology will take part in European Gum Health Day on May 12, with a wide range of activities planned in countries from Austria to Azerbaijan, from Ukraine to the United Kingdom.
This is a record level of participation, beating the 27 societies who took part in the 2017 awareness day, which brought the message "Fighting periodontal disease together" to millions of people across Europe, the Middle East, and North Africa.
Co-ordinated by Xavier Struillou, elected member of the EFP executive committee, European Gum Health Day 2018 has as its slogan "Health begins with healthy gums."
This year, the national societies are putting a strong emphasis on communications, targeting the media with messages about the importance of periodontal health to general health.
Eighteen of the participating national societies are preparing their own press releases about European Gum Health Day 2018, based on a template provided by the EFP.
Sixteen national societies are preparing activities with local media, including television and radio interviews.
Thirteen societies are preparing and sharing videos about European Gum Health Day, including the video recently released by the EFP in which Dr Struillou explains the aims of this year's campaign.
Nine societies will stage press conferences for the May 12 awareness day, using material and guidelines provided by the EFP.
The EFP encourages national societies, interested periodontal and dental practices, and universities to download posters, graphics, and other materials for European Gum Health Day 2018.
European Gum Health Day 2018 is the fifth EFP-promoted annual awareness day organised by the national societies of periodontology.
Held on May 12, the aim of European Gum Health Day is to increase public awareness of the seriousness of gum disease, the health problems associated with it, and the importance of maintaining healthy gums.
"European Gum Health Day 2018 aims to remind people that – even if still often overlooked – gum health is a key factor for general health throughout life, and that gum disease is a relevant public-health concern because it is linked to very serious conditions, including heart disease and cerebrovascular disease," said Struillou. "Gum health can help us to save many lives, to detect or prevent many severe conditions, and to save billions in medical costs."