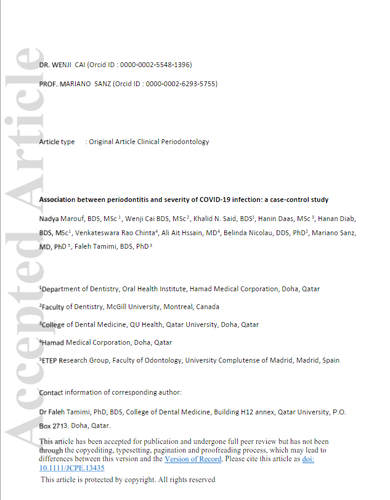 Research just published in the EFP's Journal of Clinical Periodontology (JCP) shows an association between periodontitis and worse outcomes in patients with Covid-19.
The case-control study, involving more than 500 patients, showed that periodontitis was associated with higher risk of admission to intensive care units (ICU), need for assisted ventilation, and death in Covid‐19 patients, and with increased blood levels of biomarkers linked to worse disease outcomes.
Conducted in Qatar, which has electronic health records containing medical and dental data, the study found that Covid-19 patients with periodontitis were 3.5 times more likely to be admitted to intensive care, 4.5 times more likely to need a ventilator, and almost nine times more likely to die compared to those without gum disease.
The study involved 568 patients diagnosed with Covid-19 between February and July 2020. Of these, 40 had complications (ICU admission, ventilator requirement, or death). Information was collected on gum disease and other factors that might be associated with the Covid-19 complications, including body mass index (BMI), smoking, asthma, heart disease, diabetes, and high blood pressure. Data were also obtained on blood levels of chemicals related to inflammation in the body.
Among the 258 patients who presented periodontitis, 33 experienced Covid-19 complications while only seven of the 310 patients without periodontitis presented complications.
After adjusting for age, sex, BMI, smoking status, and other conditions, the odds ratios for Covid-19 complications in patients with periodontitis, compared to those without periodontitis, were 3.67 (95% confidence interval [CI] 1.46–9.27) for all Covid-19 complications, 3.54 (95% CI 1.39–9.05) for ICU admission, 4.57 (95% CI 1.19–17.4) for ventilator requirement, and 8.81 (95% CI 1.00–77.7) for death.
The researchers, from Qatar, Canada, and Spain said that if a causal link were established between periodontitis and increased rates of adverse outcomes in Covid-19 patients, "then establishing and maintaining periodontal health may become an important part of the care of these patients."
They pointed out that the study had "clear limitations and the results need to be taken with caution," as it did not address causality and, even though the new classification for staging periodontitis was used, only one of the parameters (interdental bone loss) was deployed, which "may limit the diagnostic accuracy." That said, the use of blinded examiners to assess radiographs and the recruitment of a representative sample based on all Covid-19 cases in the country "served to reduce selection bias."
Oral care 'can reduce risk'
The researchers called for more research, including interventional studies focused on the influence of periodontitis and periodontal treatment on Covid-19 infections, to help better understand the causal connections between them. Understanding these mechanisms, they said, could lead to "mechanistic targets, risk stratification, and novel interventions."
Mariano Sanz of the Complutense University of Madrid, Spain, one of the study's authors, noted that oral bacteria in patients with periodontitis can be inhaled and infect the lungs, particularly in those using a ventilator. "This may contribute to the deterioration of patients with Covid-19 and raise the risk of death," he said. "Hospital staff should identify Covid-19 patients with periodontitis and use oral antiseptics to reduce transmission of bacteria."
"The results of the study suggest that the inflammation in the oral cavity may open the door to the coronavirus becoming more violent," added Lior Shapira, EFP president-elect and professor of periodontology at the Hebrew University – Hadassah Faculty of Dental Medicine, Jerusalem, Israel. "Oral care should be part of the health recommendations to reduce the risk for severe Covid-19 outcomes."
Instagram Live session to discuss findings
Professor Shapira will discuss this research and its importance with EFP past president Filippo Graziani (University of Pisa, Italy) in a special session on Instagram Live (@perioeurope) on Wednesday 3 February at 18.00 (CET).
The researchers involved in the study were Nadya Marouf, Khalid N. Said, and Hanan Diab (Department of Dentistry, Oral Health Institute, Hamad Medical Corporation, Doha, Qatar); Wenji Cai and Belinda Nicolau (Faculty of Dentistry, McGill University, Montreal, Canada); Hanin Daas and Faleh Tamini (College of Dental Medicine, QU Health, Qatar university, Doha, Qatar); Venkateswara Rao Chinta and Ali Ait Hssain (Hamad Medical Corporation, Doha, Qatar); and Mariano Sanz (ETEP Research Group, Faculty of Odontology, University Complutense of Madrid, Spain).
Reference: Marouf N, Cai W, Said KN, et al. Association between periodontitis and severity of COVID-19 infection: a case-control study. J Clin Periodontol. 2021. doi:10.1111/jcpe.13435. The article was first published as an accepted article on 1 February 2021. This article has been accepted for publication and undergone full peer review but has not been through the copyediting, typesetting, pagination, and proofreading process, which may lead to differences between this version and the version of record.