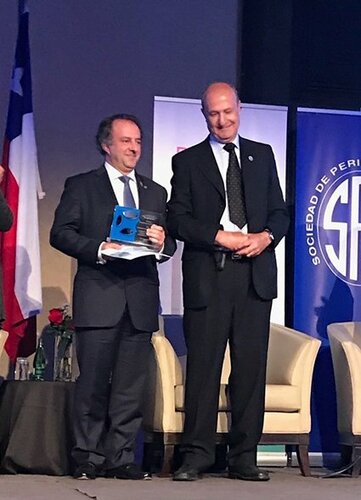 Juan Blanco, the EFP's immediate past president (2016-2017), has received a prestigious award from the Federación IberoPanamericana de Periodoncia (FIPP) – which represents the periodontal societies of Latin America together with those of Spain and Portugal.
The FIPP awarded Prof Blanco (Spain) with the status of "outstanding periodontist" in recognition of his important career in promoting Ibero-American periodontology.
In the award citation, the FIPP said: "All those of us who are involved in periodontology know the effort and dedication that you have dedicated to the speciality, in the academic field, in the institutional arena, and in research."
The prize was given to Prof Blanco on November 15, during the FIPP's annual congress, attended by more than 500 professionals, which took place in Santiago, Chile.
"I am really honoured to receive this recognition from the FIPP," said Prof Blanco. "I really appreciate this award, coming from the recognition of my colleagues."
Juan Blanco is professor of periodontology at the University of Santiago de Compostela, where he directs both the master's degree in periodontology and implantology and the continuing-education programme of periodontology.
During his year as EFP president, the EFP established May 12 as an annual periodontal-health awareness day (the European Day of Periodontology, later renamed European Gum Health Day) and he was responsible for overseeing the creation of a new four-year strategic plan for the federation.