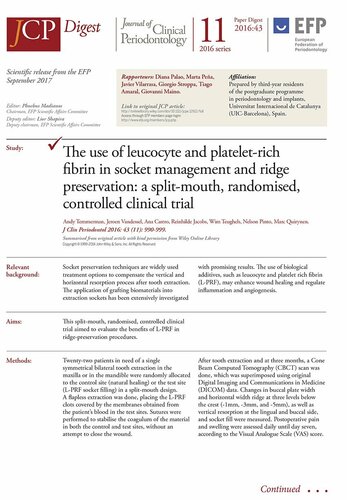 The use of leucocyte and platelet rich fibrin (L-PRF) as a socket-filling material for ridge preservation is beneficial when compared to natural healing, according to a clinical trial whose results have been summarised for the JCP Digest, the EFP's research summary.
Socket preservation techniques are widely used after tooth extraction to compensate for the vertical and horizontal resorption process, and it has been suggested that the use of biological additives such as L-PRF may enhance wound healing and regulate inflammation and angiogenesis.
A split-mouth, randomised, controlled clinical trial – carried out by researchers in Leuven, Belgium and summarised as JCP Digest 11 (2016:43) – evaluated the benefits of L-PRF in ridge-preservation procedures.
As well as concluding that, at a three-month evaluation, the use of L-PRF as a socket-filling material for ridge preservation was beneficial, the researchers said that L-PRF seems to counteract the dimensional changes of the ridge after tooth extraction, reduce postoperative discomfort, and partially overcome the need of biomaterials.
The original research, published last year in the Journal of Clinical Periodontology, was summarised for the JCP Digest by students of the postgraduate programme in periodontology at the Universitat Internacional de Catalunya, Barcelona (Spain).
JCP Digest 11 is available for viewing and downloading on the EFP website in English, French, German, Italian, Portuguese, and Spanish.