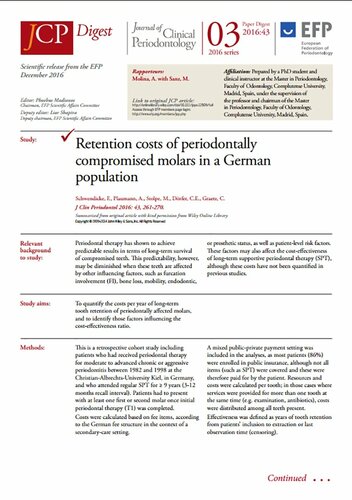 The latest edition of JCP Digest, the EFP's research summary, has been published, focussing on the retention costs of periodontally compromised teeth.
JCP Digest 03 (2016:43) summarises a German study which sought to quantify the costs per year of the long-term tooth retention of periodontally affected molars, and to identify the factors that influence cost-effectiveness.
Carried out by researchers in Berlin and Kiel, the study concluded that the retention of periodontally affected molars can be successfully achieved with a limited amount of therapy and at a limited annual cost.
They noted that certain tooth-level factors were associated with periodontal treatment frequency and cost-effectiveness, and said that the expected costs of retaining periodontally affected molars should be taken into consideration when planning patients' periodontal treatment.
The researchers added that other factors could influence the cost-effectiveness of the therapy and should be carefully evaluated and considered. However, they warned that their cost estimates applied only to the German healthcare system and might not be easy to extrapolate to other countries or systems.
The findings, originally published in the March edition of the EFP's prestigious scientific publication the Journal of Clinical Periodontology, were summarised as JCP Digest 03 (2016) by a PhD student and clinical instructor at the Complutense University of Madrid in Spain.
JCP Digest 03 can be viewed on and downloaded from the EFP website in English, French, German, Italian, Portuguese, and Spanish.