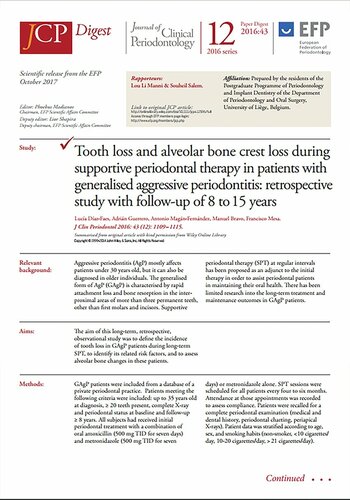 Generalised aggressive periodontitis (GAgP) is characterised by rapid attachment loss and bone resorption in the inter-proximal areas of more than three permanent teeth, other than first molars and incisors.
While regular supportive periodontal therapy (SPT) has been proposed as an adjunct to initial therapy, there has been limited research into the long-term treatment and maintenance outcomes in GAgP patients.
In this context, researchers at the University of Granada (Spain) carried out a long-term retrospective study of tooth loss and alveolar bone crest loss during supportive periodontal therapy in patients with GAgP.
Their findings, summarised in JCP Digest 12 (2016 :43), were that good outcomes (low tooth-loss rate) were observed in patients following regular periodontal maintenance (at least once a year) for a follow-up period of almost 11 years.
In addition, clinical periodontal variables – probing pocket depth (PPD) and clinical attachment loss (CAL) – improved over time and alveolar-crest loss remained minimal.
The researchers concluded that supportive periodontal therapy at least once a year and efforts to support patients in quitting tobacco may contribute to tooth stability in generalised AgP.
The original research, published last year in the Journal of Clinical Periodontology, was summarised for the JCP Digest by residents of the postgraduate programme in periodontology and implant dentistry at the University of Liège (Belgium).
JCP Digest 12 can be read and downloaded from the EFP website in English, French, German, Italian, Portuguese, and Spanish.
The JCP Digest is the EFP's research summary. It offers concise accounts of research previously published in the Journal of Clinical Periodontology to enable clinicians to keep their knowledge up to date.