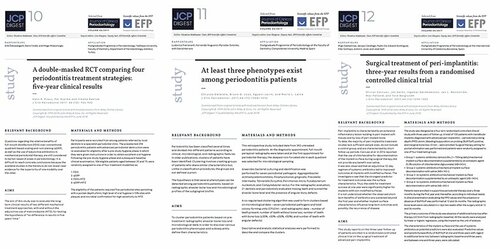 The latest three issues of JCP Digest have been published, bringing to a conclusion the series of 12 magazines offering summaries of research published during 2017 in the EFP's scientific journal the Journal of Clinical Periodontology (JCP).
JCP Digest 10 (2017: 44) covers a double-masked randomised controlled trial that compared the five-year clinical results of four periodontitis treatment strategies.
The study evaluated the long-term clinical results of two different mechanical treatment approaches – full-mouth disinfection and conventional quadrant-based scaling and root planing – used with and without an adjunctive antibiotic (metronidazole).
Researchers at the University of Oslo (Norway) and University of Aarhus (Denmark) concluded that metronidazole should not be considered as part of a regular treatment strategy for generalised chronic periodontitis. They also found that full-mouth disinfection is not better than conventional quadrant-based scaling when the long-term results of periodontal therapy were considered.

The subject of JCP Digest 11 is a study by researchers at the University of Amsterdam (the Netherlands) that sought to identify phenotypes among periodontitis patients based on pre-treatment radiographic and microbiological characteristics.
This retrospective study concluded that, according to patterns of alveolar bone loss and microbiological data, untreated periodontitis patients can be clustered into at least three phenotypes.
They added that these results should be validated in other cohorts and that the clinical utility needed to be explored based on periodontal treatment outcomes and/or disease progression.
JCP Digest 12 covers a study that reported the three-year follow-up of patients enrolled in a randomised controlled clinical trial on the surgical treatment of advanced peri-implantitis.
A total of 100 patients with advanced peri‐implantitis were randomly assigned to one of four treatment groups. Surgical therapy to eliminate pockets was performed and, in three test groups, supplemented by either systemic antibiotics, the use of an antiseptic agent for implant-surface decontamination, or both.
The study, carried out by researchers at the Sahlgrenska Academy at the University of Gothenburg (Sweden), suggested that surgical treatment of peri‐implantitis was effective and that outcomes of therapy were affected by implant-surface characteristics. It also found that the potential benefits of systemic antibiotics were not sustained over three years.
Each issue of JCP Digest is prepared by rapporteurs selected from students at the 16 EFP-accredited postgraduate programmes of periodontology. JCP Digest 10 was prepared by students at Yeditepe University in Istanbul (Turkey), JCP Digest 11 by students at the Complutense University of Madrid (Spain), and JCP Digest 12 by students at the International University of Catalonia in Barcelona (Spain).

JCP Digest is published first in English and then translated into French, German, Italian, Portuguese, and Spanish.
The first issues of the next series of JCP Digest, with summaries of research published in the Journal of Clinical Periodontology during 2018, will be published in the coming weeks.