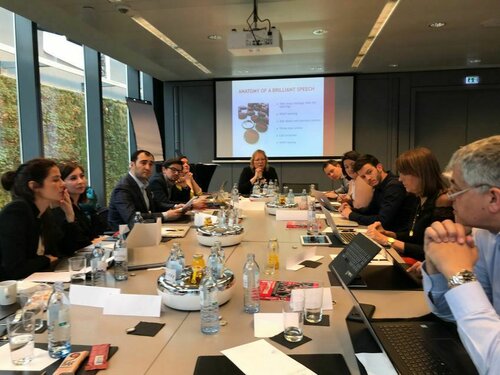 The opening day of EuroPerio9 features a very packed and lively programme, even before the official opening ceremony takes place at 17.00, followed by the welcome reception and the opening of the exhibition.
One of the highlights will be Perio Talks, the first EFP Graduate-Alumni Symposium (13.30-15.45), at which eight speakers will give short presentations on what has inspired their professional careers. The 10-12 minutes presentations will be:
Dare to cross borders even if they are not there, Bruno de Carvalho (Belgium);
Academic career in perio – the one adventure you don't want to miss, Eli Machtei (Israel);
Yes, you can, Margarita Iniesta (Spain);
Life experience changing national periodontology vision, Cavid Ahmedbeyli (Azerbeijan);
The best worst mistake, Deniz Findik (Turkey);
Periodontal awakening, Myroslav Solonko (Spain);
When dentistry meets IT, Wiem Bouaziz-Zouaoui (France);
AI robotics and the future of dentistry, Richard Lee Kin (Ireland).
The speakers were given training in giving this kind of presentation – speaking without notes and without slides – at a special session in Vienna in March, just before the EFP general assembly.
The session will be chaired by Moshe Goldstein and France Lambert from the EFP postgraduate education committee and by Filippo Graziani, the EFP president-elect who was responsible for the creation of EFP Alumni. The session is sponsored by Oral-B and MIS Implants Technologies.
"This is a historic event as finally we'll have the first official get-together of all colleagues who have previously graduated from EFP-accredited programmes," said Prof Graziani. "These friends have been representing the EFP and thus this is an important recognition."
Working with Japanese colleagues
Another highlight of EuroPerio9's opening day are the two joint sessions with the Japanese Society of Periodontology, chaired by EFP president Anton Sculean and Atsushi Saito from the Japanese society.
The first of these, Biofilm and anti-infective therapy (13.30-15.00), features presentations from Eija Könönen (Finland) on current view of biofilms in periodontal diseases and Akira Aoki (Japan) on periodontal laser therapy.
In the second joint session, Regenerative Periodontal and Implant Therapy (15.15-16.45), Shinya Murakami (Japan) will talk about periodontal regeneration using FGF-2 growth factor and Nikos Donos (UK) will discuss saving the tooth or placing an implant?
"The EFP is increasingly looking beyond the borders of Europe to develop a uniting role in the world of periodontology with those countries that wish to share in our philosophy and activities," said Prof Sculean. "The joint session with the Japanese Society of Periodontology is a 'premiere' in this aspect and a beautiful illustration of this endeavour."
Other sessions
Also on Day One of EuroPerio9 is the team session Halitosis – the last taboo with the International Association of Halitosis research, which was established at EuroPerio8 in London. Chaired and introduced by Edwin Winkel (Netherlands), the session features presentations from Ron A. Wevers (Netherlands) on a newly discovered case of extra-oral halitosis and Kavitha Seerangaiyan (India) on the impact of tongue microbiome and metabolites in intra-oral halitosis.
There are also two master clinician/periodontal specialist forum sessions on June 20:
Advances in diagnostics (13.30-15.00), chaired by Joanna Kamma (Greece) and featuring presentations from Mervi Gursoy (Finland) on salivary diagnostics, Kristina Bertl (Austria) on assessing soft tissue at teeth and implants, Mia Rakic (Serbia) on biomarkers of peri-implant bone loss, and Clemens Walter (Switzerland) on imaging of furcation lesions.
Critical factors for long-term success (15.15-16-45), chaired and introduced by Peter Eickholz (Germany), with presentations from Birgitta Jønsson (Norway) on Behavioural aspects and Bettina Dannewitz (Germany) on Impact of furcation involvement.
Poster discussions on the first day of EuroPerio9 will address the topics of biomarkers and inflammation, implant dentistry, adjunctive periodontal therapies, clinical investigations, influencing factors of periodontal treatment, oral healthcare: prevention, and periodontal regeneration.
And all this before the colourful opening ceremony (17.00-18.30) in the main hall, followed by the welcome reception for participants and the opening of the extensive EuroPerio9 exhibition.