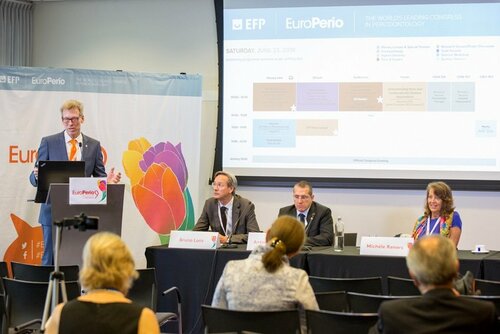 Opening the first of three press conferences at EuroPerio9 in Amsterdam, congress chair Michèle Reners spoke about how the event is the world's leading congress in periodontology and how it has become increasingly international (with one in four delegates coming from beyond Europe).
She also drew attention to the "brilliant" speakers who will give presentations in 42 sessions in the congress's scientific programme, and how this edition of EuroPerio features a record number of abstracts as well as an unprecedented number of participants.
"I can tell you we have record numbers: we have passed over 10,000 participants, with 111 different countries from all over the world," said Dr Reners.
Bruno Loos, EFP press committee member from the host country of the Netherlands, outlined key messages on preventing disease to ensure healthy oral and general lifestyles and presented local facts and figures on periodontal disease.
He drew attention to the fact that periodontal treatment in the Netherlands is not covered by public health insurance and called for this to change: "Other chronic inflammatory diseases are covered in basic health care – why not gum disease?"
EFP president Anton Sculean presented key facts and figures about the federation and the key policy messages from the EFP strategic plan. He highlighted the links between periodontal and systemic diseases such as diabetes and issued a call for all European countries to formally recognise the speciality of periodontology.
He also outlined one of the priorities of his one-year presidency: focusing on the oral health and well-being of people aged over 60.
Iain Chapple, EFP secretary general, spoke about the general health burden of periodontal disease and its impact on mortality, drawing attention to the Perio Focus paper, a global call to action on the impact of the global burden of periodontal disease on the health, nutrition, and well-being of mankind.
He explained the effect of gum disease on general health, outlining a new study (to presented at EuroPerio9 on Friday) on the impact of periodontal disease on chronic kidney disease. This study, which monitored nearly 800 patients with moderate to severe kidney disease over 10 years, found a very significant impact of periodontal disease on kidney disease and suggested that periodontal disease contributed to kidney failure through creating oxidative stress in the bloodstream.
The conference was rounded off with a presentation from Søren Jepsen, scientific chair of EuroPerio9, on the congress's scientific programme in which he highlighted the new session formats and various studies of interest.