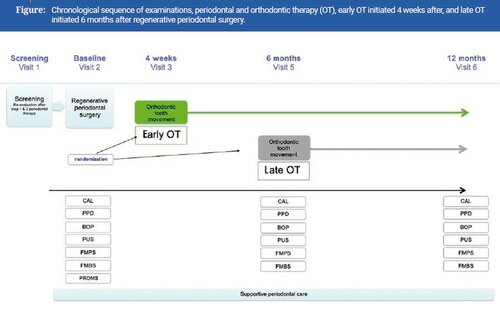 In recent years there has been debate over the optimal timing of orthodontic therapy in patients with stage IV periodontitis who have suffered pathological tooth migration.
While some studies have suggested that there should be a gap of between six to 12 months between the conclusion of regenerative procedures and the start of orthodontic treatment, others have shown successful outcomes for early orthodontic movement.
A 12-month, multicentre clinical trial, now summarised as JCP Digest 94, compared outcomes in patients who received orthodontic treatment four weeks and six months after regenerative surgery to treat an infrabony defect.
The study found statistically significant improvements in clinical attachment levels (CAL) and probing pocket depth (PPD) in both groups, with better outcomes in the early-treatment group (although the difference was not statistically significant).
Researchers also compared the results between the different centres involved in the trial and found that there was a significant increase in CAL in favour of early treatment in three out of four centres.
They concluded that starting orthodontic therapy as early as four weeks after regenerative treatment was viable and would allow a reduction in overall treatment time.
The research was summarised for JCP Digest by postgraduate students of the EFP-affiliated programme in periodontology at the Hadassah-Hebrew University Medical Center in Jerusalem, Israel.