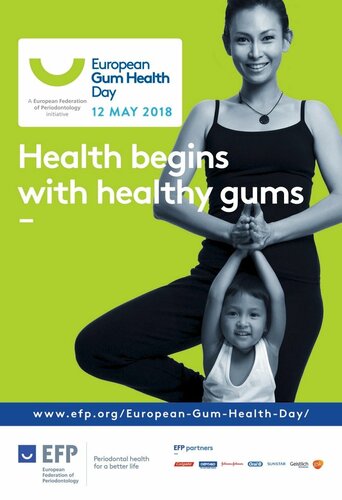 Plans are now well under way for this year's European Gum Health Day, the international awareness day promoted by the EFP and organised by its affiliated national societies of periodontology.
Under the slogan "Health begins with healthy gums", events being planned for European Gum Health Day 2018 include free periodontal screenings, mobile dental clinics, conferences, outreach visits to schools, and the presentation of a report on the impact of smoking on periodontal and peri-implant disease.
The emphasis will be on highlighting the importance of periodontal and oral health to general health and the prevention of disease.
The EFP has sent a variety of materials to the national societies for them to use in the events and campaigns they are organising for May 12.
The materials include posters, logos, an infographic, and a series of press materials (including a press release), which can be freely used, translated, and adapted to local needs. There is also a PowerPoint presentation template with sections on European Gum Health Day 2018, gum health and gum disease, and on the EFP and the national societies.
In addition, the awareness day will be used to encourage health professionals to sign and disseminate the EFP Manifesto: Perio and General Health, a call to action for the prevention, early detection, and treatment of gum disease.
And the national societies will also draw attention to the "Perio Focus" paper, a call for action on the impact of the global burden of periodontal diseases on health, nutrition and wellbeing of mankind, endorsed by the EFP and more than 50 international and national societies of periodontology.
Saving lives and medical costs
"European Gum Health Day 2018 aims to remind people that – even if still often overlooked – gum health is a key factor for general health throughout life," said Xavier Struillou, the elected member of the EFP executive committee who is co-ordinator of this year's awareness day.
"Gum disease is also a relevant public-health concern because it is linked to very serious conditions, including heart disease and cerebrovascular disease. Gum health can help us to save many lives, to detect or prevent many severe conditions, and to save billions in medical costs."
European Gum Health Day is an international awareness day held on May 12, whose aim is to increase public awareness of the seriousness of gum disease, the health problems associated with it, and the importance of maintaining healthy gums.
This year's event will be the fifth EFP-promoted annual awareness day organised by the national perio societies. European Gum Health Day 2017, which used the slogan "Fighting periodontal disease together," was a huge success: 27 of the EFP-affiliated national societies participated, organising a wide range of public-awareness activities, offering free periodontal screenings, and generating a large amount of media coverage.
More information can be found in the European Gum Health Day section of the EFP website, which includes an introduction to this year's awareness day and a report on European Gum Health Day 2017.