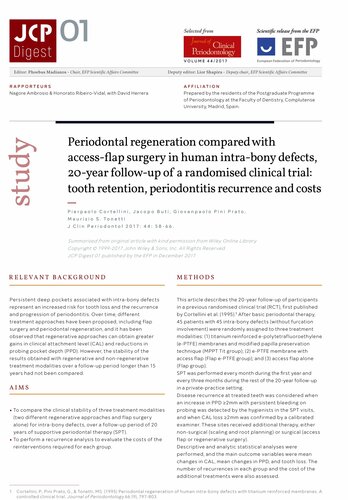 A new series of the EFP's research summary JCP Digest is now under way, with the first three issues available for downloading from the EFP website.
Featuring a new design that provides a clearer and more modern look, the new series features summaries of articles published during 2017 in Volume 44 of the Journal of Clinical Periodontology, the EFP's respected scientific journal, which has an impact factor of 3.477.
JCP Digest 01 provides an account of a long-term study that compared three different kinds of treatment for intra-bony defects, which present an increased risk for tooth loss and the recurrence and progression of periodontitis.
It describes a study that evaluated tooth retention, periodontitis recurrence, and the costs of three techniques over 20 years. The techniques involved were: titanium-reinforced e-polytetrafluoroethylene (e-PTFE) membranes and modified papilla preservation; e-PTFE membrane with access flap; and access flap alone.
The study found that all three treatment modalities can be successful in treating deep intra-bony defects and the results can be maintained for 20 years with regular supportive periodontal therapy. However, sites treated with regeneration were clinically more stable than those treated with flap surgery alone, which was associated with more episodes of recurrence.
While the initial cost of treatment is higher in the case of the regenerative approaches, the cost of reintervention becomes progressively higher over time for flap surgery alone. Researchers recommended that clinicians should consider the long-term advantages of applying regenerative surgery when treating deep intra-bony defects.
The original research was carried out by Pierpaolo Cortellini, Jacopo Buti, Giovanpaolo Pini Prato, and Maurizio S. Tonetti. It was summarised for JCP Digest by students at the EFP-accredited postgraduate programme of periodontology at the Complutense University in Madrid (Spain).
JCP Digest 02 offers a summary of a randomised controlled clinical trial which compared the immediate and delayed placement of implants in terms of the need for bone augmentation at the time of placement, surgical complications, aesthetics, patient-based outcomes, and costs.
It found that immediate implants required bone augmentation more frequently than delayed implants, while the latter appeared to offer better aesthetic outcomes.
This research was carried out by the European Research Group on Periodontology (based in Genoa, Italy) and was summarised for JCP Digest by students at the postgraduate programme in periodontology, Dublin Dental University Hospital, Trinity College Dublin (Ireland).
JCP Digest 03 provides an account of a prospective cohort study that investigated whether the presence of periodontitis can be regarded as independent risk predictor for type-2 Diabetes Mellitus in a group of diabetes-free men aged between 58 and 72 years.
The study, carried out in Northern Ireland and summarised by postgraduate periodontology students at ACTA in Amsterdam (the Netherlands), found that moderate or severe periodontitis may be an independent risk predictor in the group studied and suggested that general medical practitioners should be aware of the relevance of periodontitis as a possible risk factor for the development of type-2 diabetes.
JCP Digest is edited by Phoebus Madianos and Lior Shapira, chair and deputy chair of the EFP's scientific affairs committee. Each issue is prepared by students at one of the 16 EFP-accredited postgraduate programmes of periodontology, supervised by a member of faculty.
The research summary is published first in English and then in versions in French, German, Italian, Portuguese, and Spanish.