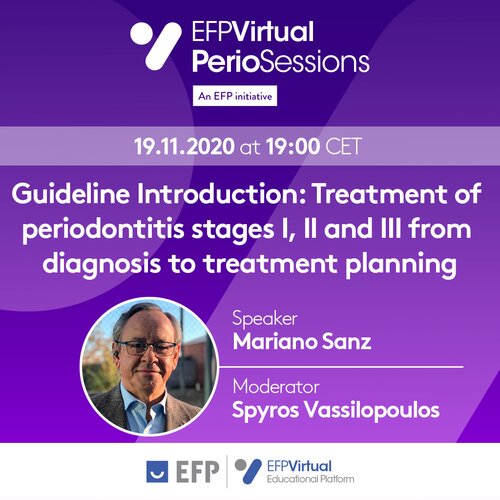 A new series of EFP Perio Sessions, the online learning tool successfully launched by the EFP in the spring, starts on Thursday 19 November with a webinar by Mariano Sanz on the federation's new clinical practice guideline on treatment for periodontitis.
Running until June next year, half of the series of monthly webinars will be devoted to exploring in detail the EFP's S3-level clinical practice guideline for the treatment of stage I-III periodontitis.
Prof Sanz will provide an introduction to the guideline, showing how clinicians should proceed from the diagnosis of a periodontitis patient to the classification of the disease according to the stage-and-grade approach, following a stepwise approach to periodontal therapy and using those interventions whose efficacy has a scientific basis.
His presentation will explain:
How clinicians should adopt a decision-based approach to diagnose a patient suffering from periodontitis.
How to organise the patient's treatment plan following the steps of therapy defined in the clinical guideline.
How to use specific endpoints of therapy to move within the different steps of therapy.
He will present clinical cases to exemplify the flow from diagnosis to treatment planning and to therapy.
This first EFP Perio Sessions webinar of the new series will be moderated by Spyros Vassilopoulos, a member of the EuroPerio 10 organising committee.
Future EFP Perio Sessions
Following Mariano Sanz, the next EFP Perio Sessions webinar will be given on 10 December by Ian Needleman, professor of periodontology and evidence-informed healthcare at UCL Eastman Dental Institute in London, UK. He will discuss 'Perio and sports', explaining research into the relationship between periodontal disease and sports performance.
On 28 January 2021, the focus of attention is again the clinical practice guideline, and Iain Chapple, professor of periodontology at the University of Birmingham in the UK, will focus on the first step set out in the guideline: behavioural change and risk-factor control.
Other leading periodontal scientists will deliver presentations over the following months, with one new EFP Perio Sessions webinar every month. Access to each webinar will require prior registration and the payment of a fee of €35 (plus VAT). Full details about registration and the calendar of webinars are available in the EFP Virtual section of the federation's website, through which online bookings can be made.