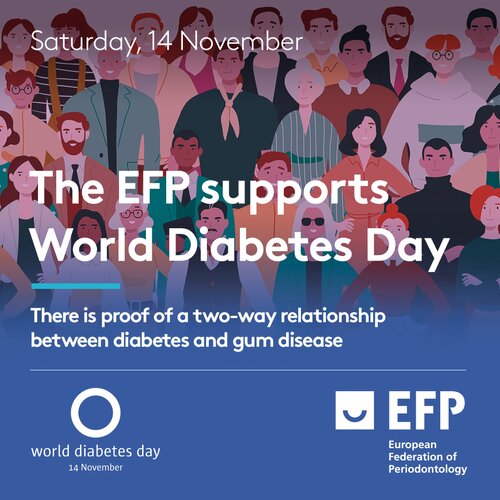 To mark World Diabetes Day on 14 November, the EFP highlighted the latest research on the two-way relationship between periodontitis and type-2 diabetes.
Two years ago, on 14 November 2018, the EFP launched its Perio & Diabetes campaign. Since then, research has continued to explore the links between periodontal disease and diabetes, the effect of periodontitis treatment in diabetic patients, and other related areas.
Research published recently by the EFP's Journal of Clinical Periodontology includes:
Perio & Diabetes campaign
Two years ago, on 14 November 2018, the EFP launched its Perio & Diabetes campaign – a package of written and graphic materials aimed at different audiences. The Perio & Diabetes project was produced thanks to an unrestricted grant from EFP partner Sunstar, and the material is based on the findings of the Perio-Diabetes Workshop, held in Madrid in February 2017, which was organised jointly by the EFP and the International Diabetes Federation (IDF), in partnership with Sunstar
The core of the Perio & Diabetes campaign is the six recommendation guidelines specially produced for different dental professionals, other medical professionals, researchers, policymakers, patients and the public, and the media. There are also shorter brochures, lively infographics, and an animated video in seven languages.
​"Diabetes and periodontal diseases are now clearly linked with bidirectional interactions and periodontal diseaess have been recognised as a major complication in diabetes," noted EFP president Xavier Struillou. "A common approach between the diabetologist and the periodontist is essential for a long-term stabilization of both diseases. The campaign with the IDF was very important for the EFP to help improve the global health of diabetes patients."