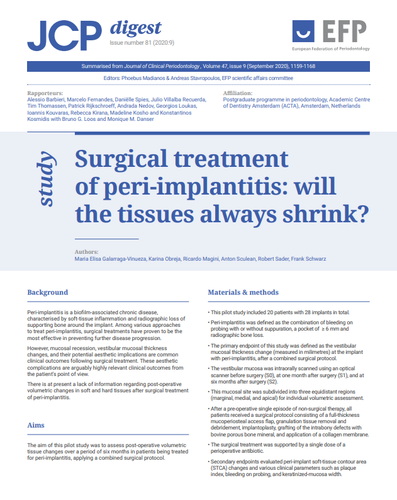 Surgical approaches have proven to be the most effective way to treat peri-implantitis and prevent further disease progression. However, common post-surgery outcomes include mucosal recession and vestibular mucosal thickness changes, which may have a significant aesthetic impact.
A pilot study – carried out by researchers in Germany, Italy, and Brazil – assessed post-operative volumetric tissue changes over six months in patients being treated for peri-implantitis, applying a combined surgical protocol.
Summarised as JCP Digest, number 81, this study measured vestibular mucosal changes in 20 patients with a total of 28 implants. It also evaluated changes in the peri-implant soft-tissue contour area and various clinical parameters including plaque index, bleeding on probing, and keratinized-mucosa width.
The researchers found that peri-implant mucosa undergoes considerable volumetric changes after combined surgical treatment of peri-implantitis and that the amount of post-operative reduction is inversely related to the baseline width of the keratinized mucosa around the implant.
They recommended that volumetric changes should be taken into consideration by clinicians treating peri-implantitis with a surgical approach, especially in aesthetic areas and in patients with high aesthetic expectations.
The study was summarised for JCP Digest by students at the EFP-accredited postgraduate programme of periodontology at the Academic Centre of Dentistry Amsterdam (ACTA) in the Netherlands.