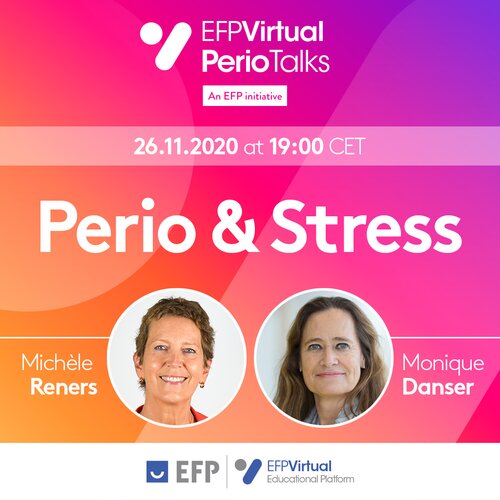 The next session in the series of EFP Perio Talks on Instagram (@perioeurope) will focus on stress and periodontal disease. Belgian periodontist Michèle Reners, who was the chair of 2018's EuroPerio9 in Amsterdam, will discuss the association between stress (or "allostatic load") and periodontal disease with Monique Danser, EFP treasurer.
The session, on Thursday 26 November at 19.00 (CET) will explore the two main factors that explain this association:
Psychosocial factors, which create an immunosuppression that allows bacteria to infiltrate the tissues more easily, involving the central nervous, immune, psychological, and endocrine systems.
Patients suffering from stress tend to experience lifestyle changes such as brushing their teeth less frequently, bruxism, increased smoking, and excessive alcohol consumption.
Dr Reners points out that the impact of stress is difficult to measure and varies between patient. Furthermore, studies have shown that emotional intelligence is an important factor for clinicians to take into account.
She says that stress and the patient's "coping style" should be included in the risk profile to help practitioners develop a better prognosis and plan treatment according to the patient's psychological state to ensure better results.