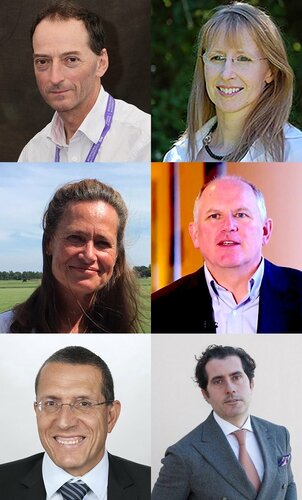 The EFP general assembly in Bern (Switzerland) on March 30 marks a "changing of the guard", as a new team takes over key roles on the federation's executive committee.
Iain Chapple (UK), secretary general for the last three years, hands over the reins to Nicola West (UK), while Joerg Meyle (Germany), treasurer for six years, is succeeded by Monique Danser (Netherlands). Filippo Graziani (Italy) becomes president for the next year, following Anton Sculean (Switzerland).

Prof Chapple, professor of periodontology and head of the School of Dentistry at the University of Birmingham, was previously treasurer (2007-2013) and chair of the scientific advisory committee (2014-2016).
"The last three years have involved a step change in the EFP's trajectory, driven by fantastic workshops and EuroPerio meetings, Perio Master Clinics, and some sensational projects with our partners," he said. "Our reach is now truly global and that is evidenced by our new international associate members who join this year."
Noting that his term in office started with a new strategic plan, Prof Chapple said that the federation had "exceeded delivery" on the plan "thanks to our professional support team led by Sharon Legendre (my first appointment as secretary general) and, of course, fantastically supported by Mónica Guinea."
He added that he was "passing the reins to someone who will excel in continuing this growth and success" and that he will "miss the EFP more than anyone realises – it's a wonderful family of likeminded people."
Nicola West, professor of periodontology at the University of Bristol, commented: "I am truly honoured to accept the position of secretary general and would like to thank the EFP for the confidence that it has shown in me. I relish this wonderful and exciting opportunity and I acknowledge that I follow in the footsteps of a great leader, Iain Chapple. He has inspired and energised the EFP by motivating and empowering everyone to achieve."
Paying tribute to Joerg Meyle, Monique Danser said: "Joerg took very good care of the EFP finances, always questioning the need for financial aid for any project presented to him with the financial balance in his mind. The EFP is financially healthy and Joerg deserves a very big compliment for this."
Before becoming treasurer in March 2013, Prof Meyle was chair of EuroPerio4 (Berlin, 2003) and EFP president in 2007-08. Monique Danser, course director of the postgraduate programme in periodontology at ACTA in Amsterdam, has been the EFP delegate for the Dutch Society of Periodontology for the last six years. She was also a member of the EuroPerio9 organising committee.
"I feel very honoured in taking on the role as treasurer for the next three years," she said. "My biggest challenge will clearly be keeping the EFP financially healthy. Good and close communication with all involved in the EFP therefore is very important.
"The importance of the EFP is growing each year, not only in Europe but also globally, and the numerous European projects, the Journal of Clinical Periodontology, the growing number of partners, members, and – of course – the EuroPerio congresses are proof of that."
Dr Danser added that another key project for her "will be to present and implement a new investment strategy for the EFP."
Presidential praise
Filippo Graziani paid tribute to his three immediate predecessors as EFP president: Juan Blanco (2016-2017), Gernot Wimmer (2017-2018), and Anton Sculean (2018-2019). "I feel honoured to follow the guidelines I have received from them and I have some words to describe the style of their presidencies," said Prof Graziani.
"So, for Juan Blanco, "democracy" and "transparency", for Gernot Wimmer, "teamwork" and "enthusiasm", and for Anton Sculean, "institutional" and "thorough".
Looking to the composition of the new executive committee, he said: "I am excited, because Nicola and Monique will bring new ideas, new energies, and new thoughts to the EFP because they were not part of the board before. And we need to make sure that women as part of the leadership is something routine for the federation in the future."