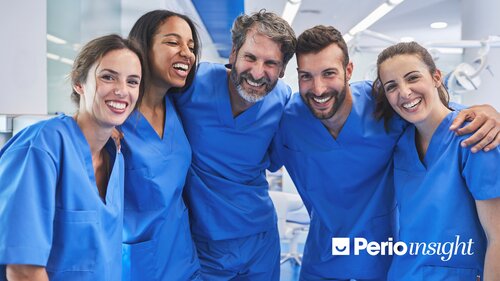 With a focus on periodontal science and clinical practices, Perio Insight, the EFP online magazine launches a new format today. It will offer expert views and debates, forum articles and short comments on key topics in periodontology and implant dentistry. The publication will also feature research work carried out at EFP-accredited postgraduate programmes.First published in 2016 as a pdf magazine, Perio Insight is relaunched in a new format, easily accessible online. The magazine is edited by Joanna Kamma (Communications Committee) with Andreas Stavropoulos (Scientific Affairs Committee) as scientific adviser.
Panos N. Papapanou, editor-in-chief of the "Journal of Clinical Periodontology", the official scientific publication of the European Federation of Periodontology, will have a monthly column in this online publication. Prof. Papapanou will alert readers on important content published in the JCP that may be particularly relevant to the practicing clinician and the global periodontology community. He will also respond to any questions related to the Journal. In the first issue the editor-in-chief discusses the EFP's clinical practice guidelines.
Other topics in the first issue include:
The development of in-vitro multispecies subgingival biofilm models: the article describes the development of a dynamic in vitro model with multispecies biofilm. It aids our understanding of the behaviour of subgingival bacteria within biofilms and helps us assess the impact of different implant surfaces on biofilm growth, as well as the efficacy of different implant surface decontamination methods. The research was carried out at the EFP-accredited programme in periodontology at the University Complutense of Madrid (Spain).
The perio-ortho synergy in smile aesthetics: this item explains how perio-ortho synergy can bring more harmonious aesthetic results and long-term stability for both hard and soft tissues.
Joanna Kamma, editor of the magazine, said: "Perio Insight re-joins and complements the existing EFP journal family. The monthly publication will offer EFP members and periodontologists everywhere an update on a variety of the latest research topics, technology, and clinical applications. The online format will be a dynamic, lively medium, encouraging interaction with the articles. We hope to provide information that will help expand healthcare professional's knowledge and share clinical tips for everyday practice."
"The EFP Communications Committee is always eager to find new ways to share relevant information with health professionals. We hope the new format is more accessible, mobile friendly, providing a fresh layout," concludes Bettina Dannewitz, chair of the EFP Communications Committee. "We look forward to your comments."