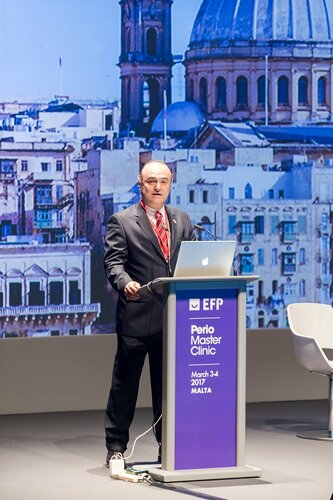 The EFP's Perio Master Clinic 2017 opened on March 3 with a packed auditorium hearing a welcoming address from Korkud Demirel, chair of the organising committee.
The event, the second master clinic organised by the EFP following the pioneering first Perio Master Clinic in Paris in February 2014, features presentations from world-leading perio scientists and clinicians.
The theme of this year's event, organised by the Turkish Society of Periodontology, is "Peri-implantitis: from aetiology to treatment."
After a keynote lecture from Niklaus Lang on the aetiology, epidemiology, and diagnosis of peri-implant diseases, participants will enjoy six sessions dedicated to different aspects of the challenge of peri-implantitis.
The first two sessions on the morning of Friday, March 3 cover the prevention of peri-implant disease and the question of whether the risk of disease can be reduced by improving soft tissues adjacent to implants.
The Friday afternoon sessions focus on soft-tissue recessions at implants and resective surgical approaches, while Saturday morning's sessions address the regeneration of peri-implantitis defects and the treatment of advanced peri-implant cases.
The Perio Master Clinic is designed to fill a gap between the triennial EuroPerio congresses, providing a select audience – numbers are limited to 600 participants – with the latest scientific and clinical insights on a key topic in periodontology.
The EFP Perio Master Clinic event takes place in the Maltese capital of Valletta, at the Mediterranean Conference Centre, a historic building that for two centuries was the Sacra Infermeria hospital of the Knights of Malta.