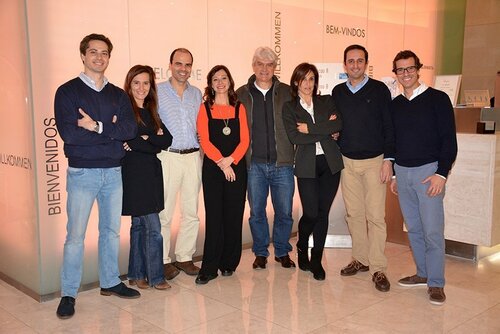 The annual meeting of the Portuguese Society of Periodontology and Implantology took place in Lisbon on February 18 under the heading of "Scientific evolution as a guide for modern practice in periodontology."
The 250 participants heard Pierpaolo Cortellini (Florence, Italy) lecture on the "state of the art" of periodontal regeneration on intrabony defects, with a special emphasis on the adjunctive benefits of using a surgical microscope, the use of microsurgical instruments, and the application of "minimally invasive surgical techniques".
Prof Cortellini, who combines an extensive knowledge of periodontal biology with expertise on the use of minimally invasive surgical techniques, presented several 3D films of surgery on severely compromised teeth. He showed the long-term results of these cases and how the prognosis of these teeth can be improved.
The afternoon session focused on controversies in periodontology and implants, and featured a series of short lectures on different topics, where two different approaches to treating the same clinical situation were presented, followed by a discussion.
The topics covered were:
Plastic periodontal surgery for root coverage: Conventional approach (presented by Patrícia Almeida Santos) versus minimally invasive (Célia Alves);
Atrophic posterior maxilla: Angulated implants (Ana Ferro) versus sinus-floor elevation (Paulo Mascarenhas);
Peri-implantitis treatment: Reconstructive approach (Helena Francisco) versus resective approach (Orlando Martins);
Post-extraction implant placement: Immediate placement (Gil Alcoforado) versus alveolar regeneration with delayed placement (Susana Noronha);
Endo-periodontal lesions: Endodontic treatment (Rui Pereira da Costa) versus tooth extraction and implant placement (André Chen);
While this session was taking place, Prof Cortellini gave a four-hour hands-on course on minimally invasive periodontal surgery, using anatomical models. The practical exercises, carried out under magnification, covered microsurgical techniques, papilla preservation flaps, and the application of regenerative materials.
The course, limited to 24 participants, was repeated on the morning of February 19.
The meeting, held at the Olissippo Hotel, also featured 15 scientific poster communications, which were presented during the morning and afternoon breaks. The prize for the best communication was awarded to Inês Magalhães, Helena Franco, José Maria Cardoso, Ricardo Alves, and Alexandre Santos for a poster on a prospective study on a case series: to predetermie the maximum level of root coverage.
"It was really a great event, as a result of a spectacular organisation team, but also, of course, as a result of the speakers' work and their scientific knowledge," said Ricardo Faria Almeida, president of the Portuguese Society of Periodontology and Implantology. "Prof Cortellini was the keynote speaker and his 3D presentation was fantastic and loved by everyone."