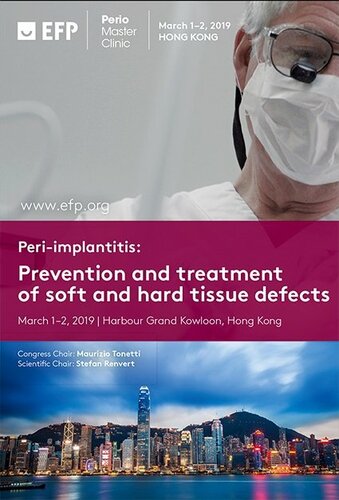 Perio Master Clinic 2019, which takes place in Hong Kong in March next year, will feature an array of leading clinicians from around the world who will share their insights on the prevention and treatment of soft- and hard-tissue defects in relation to peri-implantitis.
The line-up of speakers has now been confirmed and participants will be able to benefit from presentations from the master clinicians and researchers who have been pioneers in this area.
Congress chair Maurizio Tonetti and scientific chair Stefan Renvert will be joined by 18 speakers and moderators: Francesco Cairo (Italy), Korkud Demirel (Turkey), Jean-Louis Giovannoli (France), Moshe Goldstein (Israel), Filippo Graziani (Italy), Lisa Heitz-Mayfield (Australia), Martin Janda (Sweden), Niklaus Lang (Switzerland), Joerg Meyle (Germany), Shinya Murakami (Japan), Park Jung-Chul (South Korea), Philip Preshaw (UK), Mario Roccuzzo (Italy), Giovanni Salvi (Switzerland), Mariano Sanz (Spain), Frank Schwarz (Germany), Daniel Thoma (Switzerland), and Otto Zuhr (Germany).
The opening keynote address on Friday, March 1 will be given by Niklaus Lang, widely considered to be one of the "living giants" of periodontology, who will offer an overview of peri-implant diseases including aetiology, epidemiology, and diagnosis.
This will be followed by four sessions focusing on the prevention of peri-implant diseases, the reduction of the risk of peri-implant diseases by improving soft tissues at the time of implant placement, cause-related implant therapy, and resective surgical approaches.
Among the specific topics addressed in these sessions will be the combination of aesthetics and good cleanability by designing an optimal superstructure, plastic-surgery techniques to increase the soft-tissue thickness at implants, the role of laser therapy in the management of peri-implantitis, and the benefits and risks of antibiotics and antimicrobials in peri-implant surgery.
The two sessions on Saturday, March 2 will tackle the benefits and limitations of regeneration of peri-implant defects and the management of soft-tissue recessions at implants. Topics covered will be the use of bone-augmentation materials and advanced-flap management in the regeneration of peri-implant defects, the treatment of mucogingival recessions at existing peri-implant sites, and the handling of soft-tissue recessions in the aesthetic zone.
Prof Tonetti said: "The EFP and I are most pleased to present for the first time in Asia a faculty with such talent and expertise to address one of the leading clinical dilemmas in periodontal practice: how to effectively manage peri-implantitis and its soft- and hard-tissue sequelae."
The full programme for Perio Master Clinic 2019, which takes place at Hong Kong's Harbour Grand Kowloon hotel, can be consulted here.
To ensure an optimal learning environment, there will be a maximum of 550 participants and registrations will be made on a "first come, first served" basis. Registrations can be made online via the EFP website.
Perio Master Clinic 2019, held in collaboration with the Hong Kong Society of Periodontology and Implant Dentistry, will be the first EFP Perio Master Clinic to be held outside of Europe and reflects the increasingly global perspective of the federation.
The Hong Kong event follows two previous highly successful editions, in Paris (2014) and Malta (2017). Dublin will be the setting for Perio Master Clinic 2020.