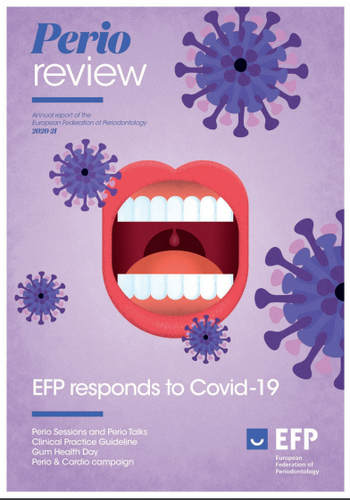 The 2020-21 edition of Perio Review, the EFP's annual report on its activities, describes the effective and multilevel response by the federation and its affiliated national societies of periodontology to the challenge posed by the Covid-19 pandemic.
The 14-page magazine, which can be downloaded from the EFP website, covers the year of Xavier Struillou's presidency which was dominated by the pandemic. It describes initiatives such as the launch of the Perio Sessions webinars and how the EFP offered support to periodontal practitioners and their patients through issuing a safety protocol for dental clinics and a campaign to encourage people to visit their dentists.
In her comments on the year, secretary general Nicola West says that "the EFP has demonstrated that it has the correct structure, integrity, expertise, and resource to identify and meet challenges while delivering on its key strategies."
The magazine also includes reports on the launch of EFP Virtual – the online education portal that includes the Perio Sessions webinars and the Perio Talks live sessions on Instagram – the expansion of the EFP's social-media activities, and the launch of its new website.
There are reports too on the S3-level clinical-practice guideline on the treatment of stage I-III periodontitis, on the Perio & Cardio and Perio & Caries campaigns, and on Gum Health Day 2020.
One highlight of the magazine is an interview with Maurizio Tonetti, who steps down as editor-in-chief of the Journal of Clinical Periodontology at the end of March after 15 years to be succeeded by Panos Papapanou. Prof Tonetti discusses the evolution of the JCP, which last year achieved a record impact factor and is consistently ranked in the top three journals in dentistry.
Finally, new EFP president Lior Shapira outlines his vision for the next year during which the federation will celebrate its 30th anniversary. He promises that it will be a "return to normal" year and calls for greater collaboration between periodontists and family doctors and for boosting the influence of women periodontists. Looking ahead, he says: "My vision is to keep the EFP as the influential driving force of periodontology globally."