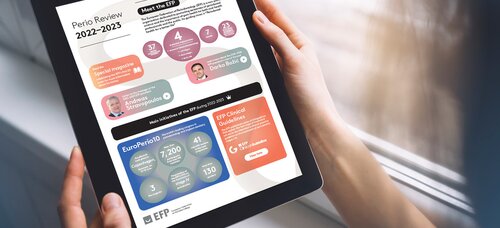 Perio Review 2022-23, the EFP's annual report has been published. The review presents an overview of recent activities, events, and publications. It also features a message from the 2022-23 EFP president, Andreas Stavropoulos (Sweden) and introduces the incoming president, Darko Božić (Croatia).
Looking back at the past year, Andreas Stavropoulos said: "I would like to highlight the fantastic EuroPerio 10 congress in my hometown Copenhagen, in June 2022. This year's Perio Master Clinic 2023 in Antwerp was also one of a kind. Our donation campaigns, in collaboration with the WHO Foundation, to support the victims of war in Ukraine and the earthquake in Syria and Turkey, show that the EFP is outward looking and tries to help in times of crisis … and there is still time for you to donate! Finally, important efforts have been dedicated within the organisation to strengthen our branding and to professionalise the EFP, making it more open and transparent."
Regarding EFP publications, the annual report reviews the launch of the digital version of Perio Insight in March 2023, as well as JCP Digest's 100th issue in May 2022. New communication projects include Perio Talks, the EFP podcast launched in June 2022.
The EFP outreach campaign Gum Health Day continues to grow year-on-year. In 2022 the main innovation was the introduction of a "campaign builder" allowing the creation of customised layouts for posters and social media messages. In February 2023 the third photo contest was launched with this year's tag line: "Healthy gums look good on you. Protect them!"
Perio Review also features the series of infographics based on EFP Clinical Guidelines that were published to explain the four steps of treatment in the federation's clinical practice guideline on periodontitis.
Monique Danser, (Netherlands) EFP treasurer commented: "I am delighted to report that the past year was a good one for EFP finances. Thanks to excellent attendance of our educational event Europerio 10 and close collaboration with our sponsors, we were able to finance the student symposium in Belgium and our workshop on guidelines for the management of peri-implant diseases. We were lucky to add Philips as a new partner in 2022. The executive committee has been taking actions to ensure that in the future the EFP will stay financially healthy and will enable us to keep contributing to all aspects of periodontology. A new project on improving oral health together with The Economist, and sponsored by Haleon, will also be of great impact. It is important for our federation to be open to the world and we were proud to collaborate with the WHO Foundation to support Ukraine and to relieve victims of the earthquake that affected Turkey and Syria. I would like to thank our members, staff, partners and sponsors. Our healthy finances allow us to continue to grow and envision new projects to serve our community."
The EFP secretary general Nicola West (UK) observed: "Looking at the colourful 2023 issue of Perio Review summarising past events, publications, awards, communication channels, campaigns, and other initiatives we can see a community that is very much alive and thriving. The useful feedback received during our recent General Assembly will allow us to put in place new projects and continue to grow."
Looking forward, Perio Review introduces the new EFP president 2023-24, Darko Božić (Croatia). Božić declared: "The EFP community will continue to grow and lead in terms of clinical and scientific evidence. We aim to bring the latest treatments in periodontology to patients, that is our mission, and we will strive to enhance it. This will only be possible if we continue to work closely with our members."