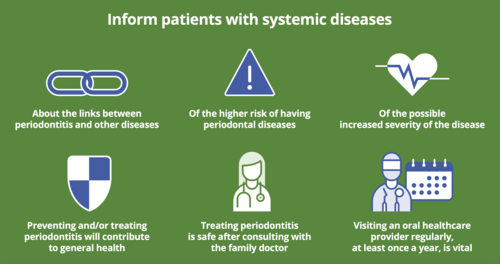 Dental health professionals and family doctors are joining forces to enhance patient care in a collaborative effort called the Perio & Family Doctors campaign. Spearheaded by the EFP and the European Regional Branch of the World Organisation of Family Doctors (WONCA Europe), the initiative, sponsored by Curasept, aims to bridge the gap between oral and general healthcare. The campaign recognises the pivotal role of teamwork in elevating patient treatment standards, especially concerning chronic conditions like cardiovascular diseases, diabetes, and respiratory ailments.
In 2022, experts from EFP and WONCA Europe published a scientific consensus report in the Journal of Clinical Periodontology, emphasising the need for closer collaboration between family physicians and oral health providers. This partnership seeks to tackle systemic health conditions that affect patients worldwide, including hypertension, obesity, smoking, and hyperlipidaemia. By sharing knowledge and expertise, both dental and general practitioners can proactively address these issues.
EFP president Darko Bozić explains "This ground-breaking campaign marks a giant leap in enlightening family doctors, periodontists, and other oral health providers about the potential for closer collaboration. Together, we can proactively tackle and manage prevalent systemic health conditions that impact patients worldwide, such as cardiovascular disease (CVD), hypertension, obesity, diabetes, smoking, and hyperlipidaemia." He adds: "This campaign is also addressed to the general public, as patients should be aware of the advantages and benefits of good oral health."
WONCA Europe president Shlomo Vinker underscores the paradigm shift in understanding periodontitis as a condition intertwined with broader systemic diseases. He says, "Strengthening the bond between oral health professionals and family doctors is instrumental not only in the early detection and management of non-communicable diseases (NCDs) but also in fostering healthier lifestyles."
"Our aim with these materials is to make the core messages of the consensus report visual and intuitive, while based on the latest scientific evidence available. The campaign shows that periodontitis (or chronic inflammation of the gums) is independently associated with cardiovascular diseases, diabetes mellitus, and respiratory diseases, such as chronic obstructive pulmonary disease, sleep apnoea, and Covid-19 complications," explains Professor Anton Sculean, chair of the EFPs Projects committee.
"Research shows that severe periodontitis is the sixth most common disease globally and yet its impact on general health is still so little known ", says Giulia Giovannardi, International Business Development Manager at Curasept. "At Curasept we have always been committed to finding new innovative solutions to improve oral care. Oral care plays an important part in the general wellbeing of a person. For this reason, we are proud to support the research of our scientific partners to advance awareness and treatment of patients".
The Perio & Family Doctors campaign materials include infographics and other digital content aimed at making the core messages of the consensus report visually accessible. It underscores the scientific evidence linking periodontal disease, particularly periodontitis, to conditions like cardiovascular diseases, diabetes, and respiratory illnesses. In summary, the campaign states that family doctors should be informed about gum diseases and their consequences on overall health, while oral health professionals should be made aware of the significance of non-communicable diseases (NCDs) and their associated risk factors.
Through this campaign, dental and general healthcare professionals are working together to provide comprehensive care, fostering healthier lifestyles and ultimately saving lives.