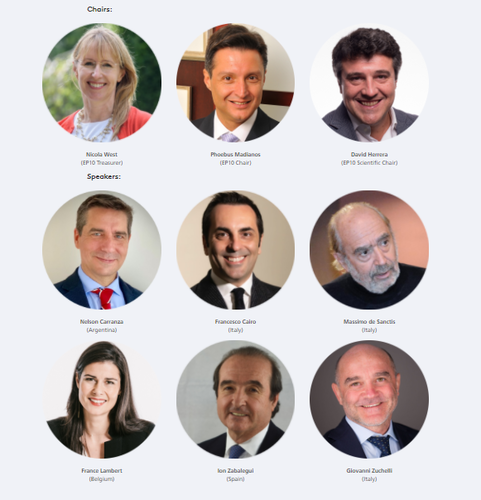 The EuroPerio Series – part of the EFP Virtual platform for continuing education – launches with a free session on June 5 that will focus on mucogingival surgery around teeth and implants. This "kick-off session" will be chaired by members of the EuroPerio10 organising committee – Phoebus Madianos (chair), David Herrera (scientific chair), and Nicola West (treasurer) – and will feature six guest speakers:
Nelson Carranza (Argentina)
Francesco Cairo (Italy)
Massimo de Sanctis (Italy)
France Lambert (Belgium)
Ion Zabalegui (Spain)
Giovanni Zuchelli (Italy)
If Covid-restrictions allow, the event will be delivered live from the EuroPerio10 venue, the Bella Centre in Copenhagen. It takes place from 13.30 to 17.30 (CET) and registration for this free event is now open.
From September there will be sessions on the second Monday of each month (18.00-20.00 CET) , focusing on providing the latest research findings on a range of key topics and providing a taster of what is to come at EuroPerio10 in Copenhagen in June 2022.
The topics covered will be bone regeneration (13 September), the treatment of stage IV periodontitis (11 October), periodontal and systemic diseases (8 November), innovations in adjunctive therapies (13 December), the surgical management of peri-implant diseases (10 January 2022), personalised medicine (14 February), and periodontal regeneration (14 March).
The registration fee for each session is €35 (plus VAT) but access is free for delegates who have previously registered for EuroPerio10.
"We have an exciting programme lined up for the EuroPerio Series showcasing the most important scientific issues of the day discussed by opinion leaders from around the globe," said EuroPerio10 scientific chair David Herrera. "The interactive virtual sessions will enable you to quiz the experts from wherever you are."
Phoebus Madianos, EuroPerio10 chair, added that the EuroPerio Series would provide "a taster of what's to come next year and be a warm-up for our highly anticipated event in Copenhagen."