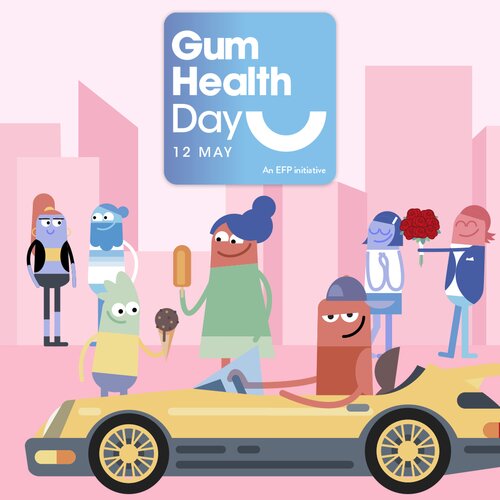 The series of short, animated videos produced for Gum Health Day 2021 is due to be released by the EFP on 4 May, ahead of the annual awareness day on 12 May.
Using humour to highlight various oral-health problems, the videos encourage people to visit their dentist. They have been produced by the EFP to be used by its affiliated national societies of periodontology in their individual campaigns for Gum Health Day. The four 30-second videos have a common message, "Gum diseases are preventable", and a simple call to action "Visit your dentist". Each one focuses on a different factor that can be a sign of gum disease or can play a role in provoking it: bad breath, wobbly teeth, sensitive teeth, and smoking.
Gum Health Day 2020, which used the slogan "Say NO to bleeding gums" proved successful despite the widespread Covid-19 restrictions which meant that planned events had to be replaced by online activities. The impact was global, with the message spread by perio societies in 39 countries in Europe, the Middle East, Latin America, Asia, and Oceania.
EFP-affiliated societies gave the campaign materials provided by the EFP an average rating of 4.23 (out of 5), compared with 4.51 in 2019 and 4.01 in 2018. All societies saw the campaign as positive for them and as helping them to pursue their success and their goals at the national level.