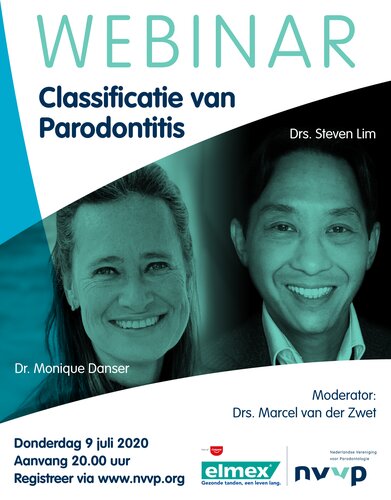 Webinars have become the focus of activities for the Dutch Society of Periodontology (NVvP) as it responds to the challenges posed by the Covid-19 pandemic.
It held a webinar on 7 October focused on the use of antibiotics in periodontal therapy, featuring presentations by Mark Timmerman (periodontist, former NVvP board member) and Sergio Bizzarro (periodontist, researcher at the Academic Centre for Dentistry Amsterdam), and moderated by Marcel van der Zwet (general dentist, vice-president NVvP).
This event followed two previous webinars. On 22 April, a webinar about Dutch guidelines on periodontology in the general dental practice featured
Monique Danser (EFP treasurer), Laurens Tinesel (periodontist and member of the commission that developed the guidelines), and Dr van der Zwet.
On 9 July, the new classification of periodontitis was the topic of a webinar, again moderated by Dr van der Zwet, featuring Dr Danser and Steven Lim (periodontist and NNvP treasurer). There were 2,500 participants in the first webinar and 544 in the second.
The webinars are available for later viewing on the NVvP website for NVvP-members only.
This is one of a series of articles about how EFP-affiliated national societies of periodontology have responded to the challenges posed by the Covid-19 pandemic.