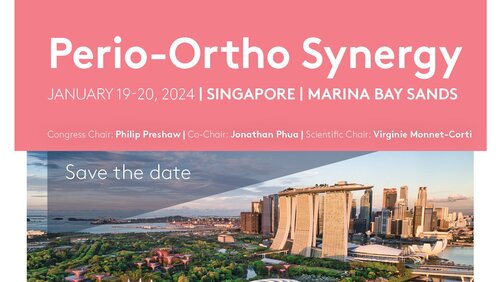 Singapore will welcome delegates to the third version of International Perio Master Clinic on 19 and 20 January 2024. Save the date!
The meeting will be a showcase for clinical expertise in Perio-Ortho Synergy.
Congress chair Philip Preshaw, UK, explains: "We are delighted to extend an invitation to all oral health professionals to attend International Perio Master Clinic 2024. Our aim is to provide clinicians with clear evidence-based knowledge and techniques that can be immediately applied to practice. Our speakers are world-leading experts who will focus on a multidisciplinary combined periodontal and orthodontic treatment approach, featuring cases and duo (perio & ortho) presentations in an innovative and interactive format. Speakers will focus on advanced techniques to enhance clinical practice, and delegates will feel highly motivated in aiming for predictable and aesthetic outcomes in their complex perio-ortho cases."
"Our multidisciplinary programme is an opportunity to improve your skills and to be up to date with the latest and most effective clinical techniques," says Virginie Monnet-Corti, France, scientific chair.
Previous International Perio Master Clinics in Hong Kong (2019) and León, Mexico (2023) were a resounding success.
Congress co-chair Jonathan Phua, Singapore, said: "Taking EFP education and knowledge across the globe underlines the federation's commitment to ensuring clinicians worldwide have access to the best research and clinical practices. It is also a chance for professionals to exchange ideas and network internationally. We are excited about this edition of the EFP International Perio Master Clinic! We are happy to welcome delegates from all over the world and we are working hard to ensure the meeting will be one to remember."
For an optimum learning experience, participation will be limited. Registrations will be handled on a first come, first served basis.