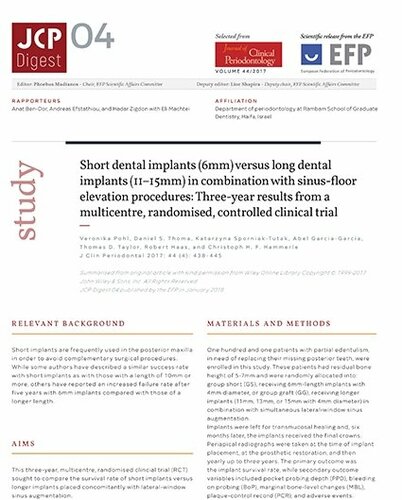 One of the most controversial debates in contemporary implant dentistry concerns the relative merits of short implants compared with more traditional longer implants.
Short (6mm) implants are often used in the posterior maxilla to avoid complementary surgical procedures. But although some authors have described a similar success rate with short implants as with implants of 10mm or longer, others have reported an increased failure rate.
In this context, a three-year multicentre randomised clinical trial (RCT) involving 101 patients, now summarised in JCP Digest 04 (44:2017), sought to compare the survival rate of short implants versus longer implants (11-15mm) in combination with sinus-floor elevation.
At the three-year follow-up, the trial found that the cumulative implant survival rate was 100% in both groups of patients: those with short implants and those with long implants.
Among the other outcomes, periodontal pocket probing depth (PPD) was significantly lower in the group with short implants than in the group with long implants (although the PPD in both groups was of acceptable levels).
The study concluded that, in cases of 5-7mm residual bone height, using short implants could be a good alternative to maxillary sinus augmentation with subsequent placement of longer implants, and that short implants had the advantage of being faster, simpler and cheaper.
In addition, said the researchers, short implants could provide a solution for patients with sinus pathologies where it would be difficult to perform lateral-window sinus augmentation.
The research was carried out by a team led by Veronika Pohl that involved researchers from five countries: Austria, Switzerland, Poland, Spain, and the USA. It was summarised for JCP Digest by students at the EFP-accredited postgraduate course in periodontology at the Rambam School of Graduate Dentistry, Haifa (Israel).
The original research was published in the April 2017 issue of the Journal of Clinical Periodontology, the EFP's official scientific journal which has an impact factor of 3.477.