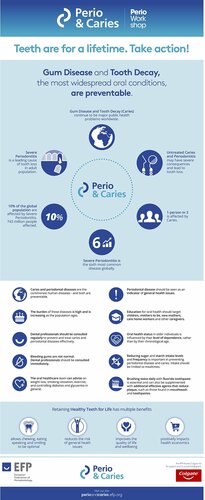 The recently launched Perio & Caries website – created by the EFP to highlight the twin challenge of gum disease and tooth decay – contains a series of video interviews with experts and an attractive infographic that clearly explains the issues involved.
A total of nine interviews are available, all with experts from the EFP and ORCA (the European Organisation for Caries Research) who took part in the pioneering workshop whose conclusions provided the scientific basis of the Perio & Caries project.
These videos feature the EFP's Iain Chapple (secretary general) and Mariano Sanz (chair, workshop committee) we well as David Beighton, Sebastian Paris, and Andreas Schulte from ORCA.
The topics covered include summaries of the outcomes of Perio Workshop 2016, caries and gum diseases as a public-health issue, the role of diet and nutrition in the onset and progression of these diseases, and the role of lifestyle, medication, and other social risk factors.
There are also videos on addressing periodontal disease and caries in older people, the maintenance of a healthy oral cavity and a healthy oral biofilm, and on the benefits produced by the workshop from the exchange of knowledge between two organisations working in different areas of dentistry.
The videos are available both within the Perio & Caries website and on the EFP's YouTube channel.
The infographic "Teeth are for a lifetime. Take action!" (see right) explains how both periodontal disease and caries are preventable, describes the extent of the problems caused by untreated disease, offers clear guidance on the steps needed to prevent and treat these diseases, and sums up the benefits of retaining healthy teeth for life.
The video material and the infographic complement the Perio & Caries project's five recommendations brochures (aimed at different target groups) and the scientific report The boundaries between caries and gum disease. These documents were compiled by Prof Nicola West based on the consensus conclusions of Perio Workshop 2016.
This workshop, held at La Granja de San Ildefonso in Spain in November 2016, brought together 75 leading periodontists and cariologists from around the world to explore "the boundaries between dental caries and periodontal disease", reviewing all available evidence on interactions, common risk factors, and shared patterns between tooth decay and gum disease.
Both the Perio & Caries project and Perio Workshop 2016 have received financial support from Colgate, one of the world's leading brands in oral care. The EFP thanks Colgate for its support and its unrestricted grant for the Perio & Caries project.