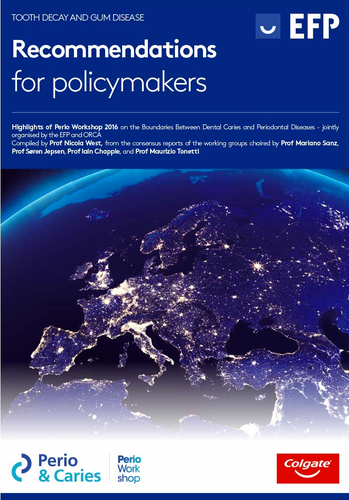 Oral healthcare professionals and the general population are major targets of the new EFP-led Perio & Caries project of knowledge dissemination for gum disease and tooth decay. However, there are three other relevant stakeholders that are key to the success of this awareness initiative: non-dental health professionals, policymakers, and researchers.
Each of these audiences is now offered an individual, downloadable brochure, containing a wealth of tailored recommendations to deal successfully with both periodontal disease and dental caries.
First, designers of the Perio & Caries programme are aware that physicians and other caregivers play a pivotal role in prevention, detection and treatment of gum disease, and tooth decay. That is why the project offers a dedicated brochure for non-dental health professionals distilling the best recommendations for them to combat the two most widespread oral conditions in the world
Encouraging patients with bleeding gums, bad breath, loose teeth, or gaps between teeth to visit a periodontist and to clean between their teeth once daily is one of the main recommendations. It is important to clearly explain to the patient that unhealthy gums can herald other general-health issues.
The aim is to stimulate patients to retain their natural teeth, which brings a number of benefits, including a better quality of life and delayed frailty and dependence. Preserving a functional dentition into old age is feasible - it implies keeping gum disease and tooth decay at bay. Even if these diseases follow different pathological mechanisms, both are preventable and share the same major determinant - dental plaque.
Second, Perio & Caries includes a recommendation brochure for policymakers and public-health agencies. Among the suggested priorities for public policy are the following:
Free dental check-ups at key stages of life, for example at 2, 5, 12, 25, 40, and 70 years;
Strategies to address oral-health inequalities in areas of high socio-economic need;
Remuneration approaches that encourage prevention and an individually tailored care plan rather that intervention in dental contracts and payment systems;
Lobby for policies that reduce the cost of healthy snacks, fruits, and vegetables at the expense of sugar-containing snacks.
Third, a brochure with recommendations for researchers is available in the section 'Recommendations' of the perioandcaries.efp.org site. Research suggestions for the simultaneous study of gum disease and tooth decay include:
Role played by genetics in the initiation and progression of both diseases;
Longitudinal design studies to better explore causality;
Further analysis of existing epidemiological data to determine the effect of common risk factors;
Efficiency evaluation of tailored, multifaceted, and comprehensive prevention programmes in adults;
Hypothesis-driven and hypothesis-free (GWAS) studies within the same population cohorts, taking into consideration interaction between several factors;
Research to improve understanding of potentially modifiable risk factors;
Comparative studies on the efficacy and efficiency of different psychological approaches
Properly designed RCTs addressing the simultaneous management of gingivitis and dental caries;
Epidemiological surveillance in older populations and studies assessing the impact of elderly comorbidities in delivering effective oral health preservation strategies.
All five recommendation brochures available, as well as the scientific report "The boundaries between caries and gum disease," have been compiled by Nicola West from the consensus reports produced by the four working groups chaired by Iain Chapple, Maurizio Tonetti, Mariano Sanz, and Søren Jepsen at Perio Workshop 2016. This was the top-level scientific meeting jointly held by the EFP and ORCA (European Organisation for Caries Research) in La Granja, Spain in November 2016.
The Perio & Caries initiative is funded via an unrestricted grant from Colgate, which was also the sponsor of Perio Workshop 2016.