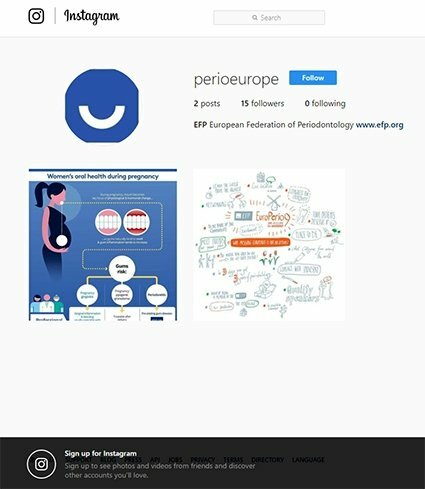 The EFP has started 2018 by taking a step forward in its social-media strategy with the launch of a page on the Instagram platform.
Using the name "perioeurope", the Instagram page will offer information about EFP activities and provide resources related to periodontology and implant dentistry. It will complement the federation's social-media activity on the Facebook and Twitter platforms.
Instagram offers a different demographic (its users are generally younger than those of Facebook), but most important of all, it is very visual platform. So, the focus will be on visual content – photographs, graphics, and videos.
In the first half of this year, there will be a particular emphasis on the EuroPerio9 congress which takes place in Amsterdam from June 20 to 23.
The EFP encourages members of its affiliated national societies of periodontology and other interested parties to become followers of the new Instagram page at https://www.instagram.com/perioeurope/.
Reena Wadia, the EFP's social-media co-ordinator, said: "It's great that the EFP is keeping up with the times and has now joined Instagram. I think it will be a fun and helpful platform for all to enjoy."
The Instagram page joins the EFP's existing social-media outlets on Facebook, Twitter, LinkedIn, and YouTube.