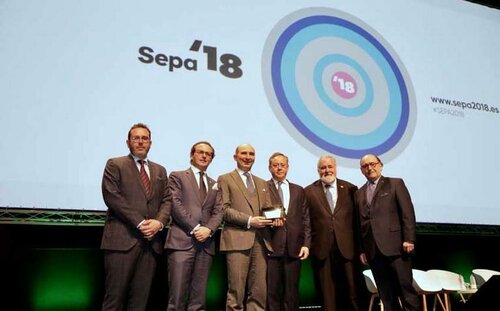 A record number of delegates attended the recent annual congress of the Spanish Society of Periodontology and Osteointegration (SEPA) in Seville, making it one of the biggest periodontal events outside the triennial EuroPerio congresses.
SEPA Sevilla '18, held at the FIBES exhibition centre from April 11 to 14, attracted 5,120 participants, a number that exceeded organisers' expectations.
The event featured 220 speakers and the presence of more than 300 international experts, including representatives of health organisations and scientific societies. The congress also involved the presentation of 330 original scientific communications and 24 workshops.
Highlights included live surgery transmitted from Budapest featuring Dr Istvan Urban and sessions devoted to treating peri-implant diseases, the latest techniques in aesthetics, and the new classification of periodontal and peri-implant diseases.
The SEPA congress comprised three conferences – the main SEPA conference on periodontology, another specifically for hygienists, and a third on the management of periodontal practices. There was also the ExpoPerio exhibition, which featured stands from almost 100 exhibitors and occupied more than 4,000m2.
"It has been a very successful congress," said SEPA president Adrián Guerrero. "I would like to thank everyone for their support, presence, and enthusiasm."
Maurizio Tonetti – monographic course and medal
The SEPA congress was preceded by a three-hour monographic course given by Maurizio Tonetti, editor of the Journal of Clinical Periodontology, dedicated to "Periodontology in the clinical day to day: from diagnosis to regeneration."
Prof Tonetti addressed the clinical focus that he applies to his patients, with particular attention to anti-infection therapy for periodontitis, regenerative periodontal surgery, mucogingival surgery, and long-term maintenance.
Later, Prof Tonetti was awarded the SEPA Foundation's "Platinum Medal" for merit in periodontology. During the award ceremony, he was described by Mariano Sanz (former president of SEPA and chair of the EFP's workshop committee) as "one of the world's most important academic and scientific authorities in dentistry today. Very few people combine his scientific capacity, academic brilliance, and clinical excellence."
Commenting on the event, Prof Tonetti said: "SEPA has been able to generate a spirit of joy and celebration around periodontology."